If you didn't blow your entire gift budget on the holidays, there's one more sale you'll want to take advantage of to the fullest.
Commonwheel Artists Co-op in Manitou Springs again will pack its shelves and line its floors with thousands of pieces of locally made pottery and other works. The famous "Pottery by the Pound" sale will run Friday through Jan. 28. Artists in the community can drop off pieces they want to sell Thursday, or wait until after the first three days of the sale are over and bring in works Monday through Jan. 28.
"There's first-class, really good stuff," said Commonwheel marketing manager Juanita Canzoneri.
Up to 70 artists could have works in the show. And don't be fooled by the name. Though it suggests it's all pottery, all manner of art will be on sale. The pottery, however, is the only medium sold by the pound. A small piece that weighs a quarter of a pound, and is priced at $2 per pound, could sell for 50 cents. A large piece that's regularly $100 to $200 could sell for $30 or $50.
"You could literally pick up stuff for pennies on the dollar," said Canzoneri. "You can buy stuff for under a buck."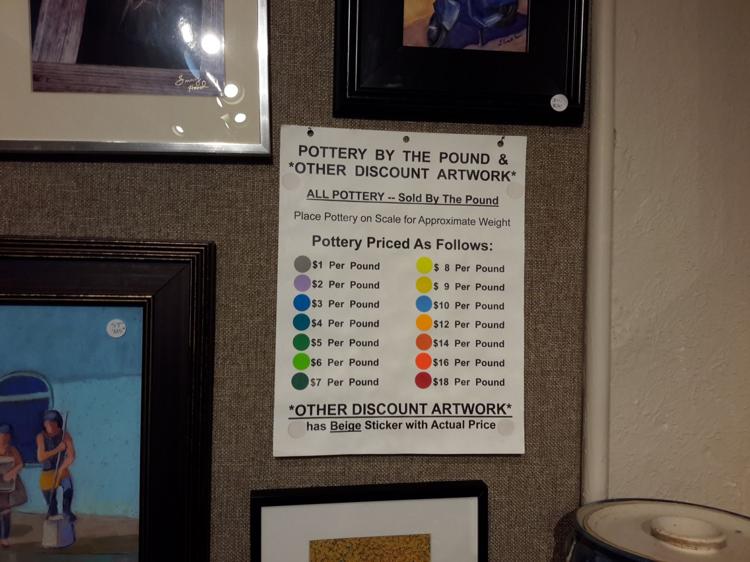 Nonpottery pieces are also priced to move.
"We ask our artists, if they're putting something in here, it needs to be marked down to the bone," Canzoneri said. "Fully on-sale prices."
Some of the pieces could be seconds, which means the work is good but not quite good enough to sell at regular prices. They also could be prototypes that the artist is still working to perfect or pieces they've had for ages and need to unload.
"We artists have a strong feel for the perfection of our products," said Canzoneri. "We want to put out the best we can, but some pieces didn't set right in the kiln, or we didn't get the color we wanted. They're good enough to use but not good enough to sell as a first."
Snow sculptures, beer, frozen corpses and ski joring: Looking ahead to Colorado's 2019 winter festivals
The co-op has 37 to 38 artist members (some memberships are shared by a couple), which means each has their own space in the shop. Memberships come with monthly dues, a specific number of work shifts and required participation in business meetings.
"You always meet an artist when you're here," Canzoneri said. "We give away inspiration for free. People walk in and they're always amazed at the quality of the work that people turn out. Any of this could be in Santa Fe or New York. It's made locally. And we're people who just have mortgages."
JENNIFER MULSON, THE GAZETTE, 636-0270, JEN.MULSON@GAZETTE.COM