So many interesting things to do in and around Colorado Springs this weekend, and here are some of our favorites.
THURSDAY-SUNDAY
Opening weekend for the traveling watercolor works show by local artists who have Alzheimer's disease or related dementias, Memories in the Making, MacKenzie Place, 1605 Elm Creek View, before it moves Aug. 28-Sept. 2 to Morningstar at Mountain Shadows and then other locations through Oct. 27. 633-8181, 331-4902
THURSDAY
Latin singer Gaby Moreno, with opening act Jarabe Mexicano, provides a lively evening of music at Ent Center, 7 p.m. Tickets: uccspresents.org
FRIDAY-SUNDAY
Opa to your heart's delight at the 21st annual Greek Festival, Archangel Michael Greek Orthodox Church, 2215 Paseo Road. Music and Greek dancing, gyros and Loukoumathes doughnut balls, ouzo and Greek wine. 5-10 Friday, 11 a.m.-10 p.m. Saturday, 11 a.m.-4 p.m. Sunday. amgoc.org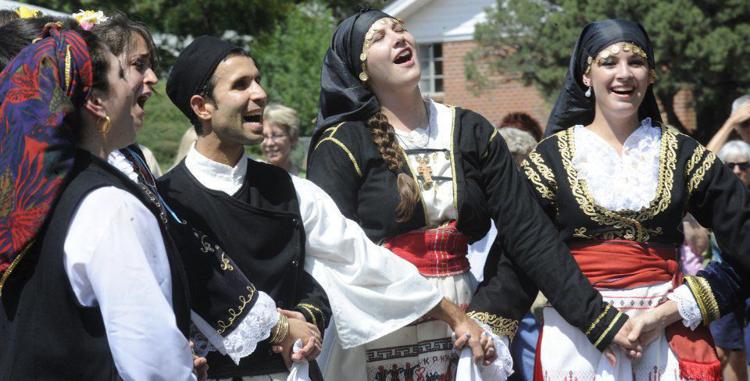 FRIDAY-SUNDAY
Opening weekend for the Colorado State Fair in Pueblo, running through Sept. 2. Concerts, PRCA Rodeo, Celebracion de los Charros with Banda Machos, monster trucks, .38 Special, Granger Smith and an evening with Temple Grandin among other highlights. coloradostatefair.com
Giddy up to the Colorado State Fair
SATURDAY
"A cappella Evolution" featuring the award-winning Velvet Hills Chorus of Sweet Adelines International, under the direction of Darin Drown, will fill the Ent Center auditorium with sound, 7 p.m. For information and tickets, uccspresents.org.
SATURDAY
A celebration of the Old West at Western Heritage Day in Mueller State Park, 21045 Colorado 67, Divide, 10 a.m.-2 p.m. Cowboys, a stick-horse rodeo, Dutch Oven cooking, pioneer games and gold panning. The park was originally a working ranch. cpw.state.co.us
SATURDAY
"Melanie Yazzie: Finding Oneself Again and Again," opening this weekend at Colorado Springs Fine Arts Center at Colorado College, uses the Diné philosophy in printmaking, painting and sculpure to focus on indigenous people. Show through Feb. 23. fac.coloradocollege.edu
SATURDAY
Expect anything imaginary at the first Unicorn Palooza, 11 a.m.-4 p.m. at the Outlets at Castle Rock. Real animals and unicorn ones, mermaids and kids' activities.
SATURDAY
A great music lineup at the Trinidaddio Blues Fest, leading off with Sugarray Rayford, Rick Estrin & the Nightcats, Rockwell Avenue Blues Band and the Keeshea Pratt Band. Tickets: trinidaddiobluesfest.com, VIP sold out. Party in downtown Trinidad on Friday night.
SATURDAY-SUNDAY
Pikes Peak Ascent fun in Manitou on Saturday as the runners run. Pancake breakfast, 7:30-10 a.m. in Memorial Park, music and food trucks in Soda Springs Park post-race, 4:30 to 10:30 p.m. Pikes Peak Marathon street party day Sunday in Manitou. Runners take off up the mountain at 7 a.m. Nonrunners can watch on the giant screen, visit food trucks and the beer garden and listen to music all day. Parking shuttle from 100-198 Higginbotham Flats.
SATURDAY-SUNDAY
Not on a little screen this time, it's PAW Patrol Live! on stage in "The Great Pirate Adventure" starring Ryder and his crew of pirate pups. 10 a.m. and 2 p.m. both days at Pikes Peak Center. pikespeakcenter.com
SUNDAY
Cycling's Open Streets Denver, eight downtown city blocked to motor vehicles but open to everyone and everything else, 10:45 a.m. to 12:30 p.m., leads into the final stage of the Colorado Classic pro women's competition at 1:30 p.m. Bike and Lifestyle Expo is in Coors Field, 10 a.m.-4:30 p.m.
SUNDAY
You, too, can afford to own original fine art. At the popular Affordable Arts Festival, in the top 25 of the country's arts festivals, 160 artists show their works, all priced $100 or less. 9 a.m.-3 p.m.campus of Arapahoe Community College in Littleton.
SUNDAY
The Harp Twins, Camille and Kennerly Kitt, bring their tour to Stargazers Theatre, 7 p.m. , doors open at 6. They're featured on electric harps, acoustic and Electro-Acoustic Concert Grand Harps. $15 plus ticketing fee, stargazerstheatre.com