Three longtime staples of the music scene are catching a second wind.
Sean Anglum, Cindy Wheeler Greene and Lewis Mock have played musical chairs in the Pikes Peak region for decades but never have all been in a band together. Until now.
Anglum Mock & Greene, an acoustic Americana trio, is all shined up and ready to entertain. The band will hold a CD release party for its new Nashville-produced album, "One Day Closer," on Friday at Stargazers Theatre and Event Center.
Expect an evening of all original material, with some cuts from the album, a video and a slideshow from the Nashville recording session, and a few stories from the group's Southern adventure.
"We have many friends in the business, and at this certain age, they're getting out of the business," Anglum said.
"They're retiring or bands are falling apart, and we're just getting going. We're just now out there with a new CD and introducing songs, and we couldn't be happier and full of energy to do it."
List: Pikes Peak region home to dozens of free summer concerts
The trio's musical history is extensive.
Anglum's been playing for decades and writing songs recorded by a variety of country, folk and rock musicians. His song "Café Light" was optioned for the Nitty Gritty Dirt Band in the '80s, though it never made it to the stage.
Mock was The Broadmoor's house guitarist for 26 years and has performed with big names, including Melissa Manchester, Debby Boone and Suzy Bogguss. He's also played in TV commercials and on movie soundtracks, and his licks have been published in Guitar Player magazine.
In the '70s, Greene was a member of the popular local band Fall River Road. She moved to Muscle Shoals, Ala., in the '80s and wound up singing backup for country star Tammy Wynette before landing in Nashville.
She worked for a number of publishing companies and had her songs recorded by artists, including her 1994 song "Now I Know," which hit No. 4 when country singer Lari White picked it up.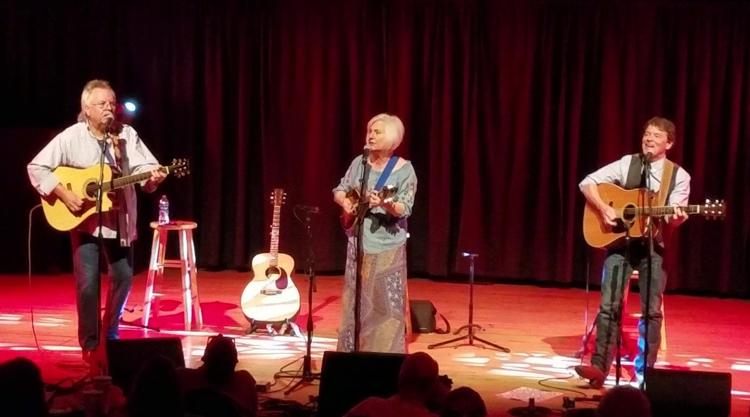 The three joined forces early last year simply to write and maybe play some songs, but once they started to sing three-part harmonies together, they realized something bigger was brewing.
They wound up playing a show at Stargazers after the featured band had to cancel and, on the fumes of that success, began to book house concerts and other shows, all while continuing to pour out the songs.
Greene, who had moved back to town after living in Nashville for three decades, suggested they record a professional demo in her former city. It was a success.
"We said that sounds like a record," Anglum said. "We're thrilled."
What they have so far is a happy accident, but more than anything, they want to get their songs into the hands of publishers and established artists.
"We want the songs to have some life to them beyond us," Anglum said.
One might think songwriting with three people at the helm might get messy, but Anglum attributes their easy rapport to their different styles and voices.
"We're not bumping up against each other," he said. "We all have separate singing voices when we're singing lead solo, but when we're together, we're all good enough that we know how to sing three-part harmony. It just blends."
JENNIFER MULSON, THE GAZETTE, 636-0270, JEN.MULSON@GAZETTE.COM