On the road to Colorado festivals this summer, there's fruit, film, corn hole and performance art.
Palisade Peach Festival, Aug. 19-22
A delicious time of year and a whole weekend of those wonderful peaches.
It's the 52nd annual festival, with food and peaches from growers and vendors across the valley.
There's a pancake breakfast with peach syrup, a Peach Queen, music, a Town Grouch parade through downtown, an ice cream social and a street dance.

Lots of fruit to take home, too, including from the Palisade Sunday Farmers Market.
Because of the crowds and hot weather, no pets please. Local kennels available.
Western Welcome Week, Littleton, Aug. 13-22
For 93 years, this Littleton festival has combined celebrating community with benefiting local nonprofits, service clubs and charities. And there's bunches of fun doing it, too. Come check it out.
LIST | Summer festivals, fairs, rodeos
Here's some of the week: a Perseids Meteor Shower Star Party at the Nature Center, Pancake Stampede 5K run or walk, car show, concerts, stick pony competition, art show, quilts, fireworks, jam concert and a grand parade.
Schedule: westernwelcome week.org
73rd annual Buffalo Days, Grand Lake, Aug. 20-22
On the shores of Grand Lake in scenic Grand County. And it lives up to its name with a buffalo barbecue.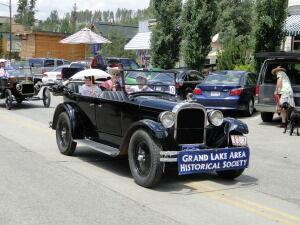 There's more: concerts, 5K Buffalo Stampede, corn hole tournament, an outdoor movie, a grand parade, Fire Department Water Zone and fireworks.
visitgrandcounty.com/event/73rd-annual-buffalo- days
The Boulder International Fringe Festival, Aug. 11-22
This is so Boulder: "Celebrating art outside the box."
Royal Gorge Whitewater Festival features water, land events, live music, contests
Artists from across the country are given an unconventional platform to show what they do. It's in-person in Boulder, or Zoom or livestreamed. Dance, music, theatre and other presentations.
One of 52 Fringe Festivals in North America, and there are 50 in Europe, Asia and Australia.
All about the Fringe: boulderfringe.com
LINDA NAVARRO, THE GAZETTE