A stroll through the Denver Botanic Gardens' annual Blossoms of Light display is a longstanding holiday tradition for Front Range families.
The Gardens' signature event for more than 30 years bedecks the grounds with festive, interactive, sound-reactive, animated LED lights in bright colors and holiday themes that are changed a bit each year to dazzle returning guests. It runs Friday through Jan. 1 at the York Street location. A typical walk around the grounds takes 25 to 60 minutes, "depending on how many times you stop for photos or if you decide to pop in for a hot chocolate," said Erin Bird, communications manager for Denver Botanic Gardens." The paths are wheelchair-accessible but can be icy in spots.
Buy your timed tickets in advance and save a few bucks. "Most dates do sell out in advance. There are two perks for getting advance tickets: You save $5 and you can guarantee you're going to get in the event on the date that you want," Bird said. "Our busiest times are the week between Christmas and New Year's Day. In mid-December, there's generally more flexibility."
With an advance ticket, you can enter the grounds within an hour window of the issued time and can stay until the event closes at 9 p.m. Attendance is limited each evening to prevent crowds on any night. Bird recommends buying tickets well in advance and considering a visit on a less-crowded weeknight in the first half of December.
Ice carving, holiday shopping at Colorado Springs event
On the grounds, visitors can purchase dinner, holiday treats, hot drinks and a reusable 16-ounce souvenir mug (filled with hot beverage, $10.95 + tax), along with special HoloSpex 3D glasses for $2 to enhance light viewing. The glasses this year allow you to see 3D gingerbread designs when you look at the light, Bird said.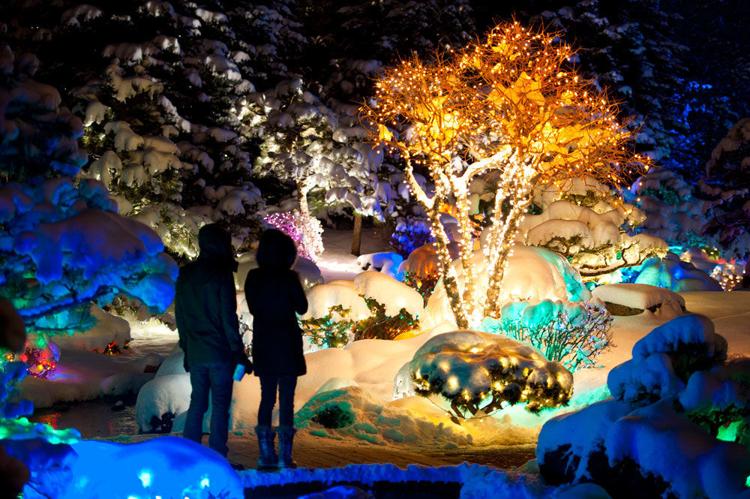 The event attracts marriage proposals (engagement packages are available on the website), birthday parties for children up to 14 and private parties.