For 81 years, Cañon City has celebrated young musicians at its Music and Blossom Festival. The National Band Championship portion of the event is the largest school band competition in Colorado.
"This year we have about 45 schools participating," said Mike Nolan, who's in his 28th year of serving on the Blossom Festival Committee. "They're high school and middle school bands, choirs and orchestras from all over the state."
Nolan retired as Florence High School's band director in 2011 but has been called off the "bench" to be the school's assistant band director. His passion for jazz and teaching presented a natural overlap with the festival. His wife, Stephanie, has been involved just as many years with the orchestra portion of the event.
"This festival is very close to our hearts," Mike Nolan said. "We want to make sure all the schools involved have an enjoyable time."
Band performances started Wednesday and continue until "nearly parade time" at 1 p.m. Saturday. Concerts are at Cañon City and Florence high schools.
The festival originally was known as Fruit Day in recognition of the orchards in Fremont County. It was renamed in 1938, Nolan said.
Wright's Amusement Giant Carnival opens at noon Friday at Elm Avenue and Oak Creek Grade, featuring a giant Ferris wheel and other rides for all ages. A $25 wrist band secures unlimited rides. Carnival hours are noon to midnight Friday and Saturday and 11 a.m. to 10 p.m. Sunday.
The 15th annual RunBlossom races, featuring a 5K and a half marathon on Cañon City's Riverwalk Trail, are slated for Saturday morning.
The parade typically attracts around 15,000 spectators. Of the 45 schools participating in the band competition, 23 are marching in the parade. The schools are mostly from the immediate region, with a couple coming from as far away as Las Vegas — Nevada and New Mexico.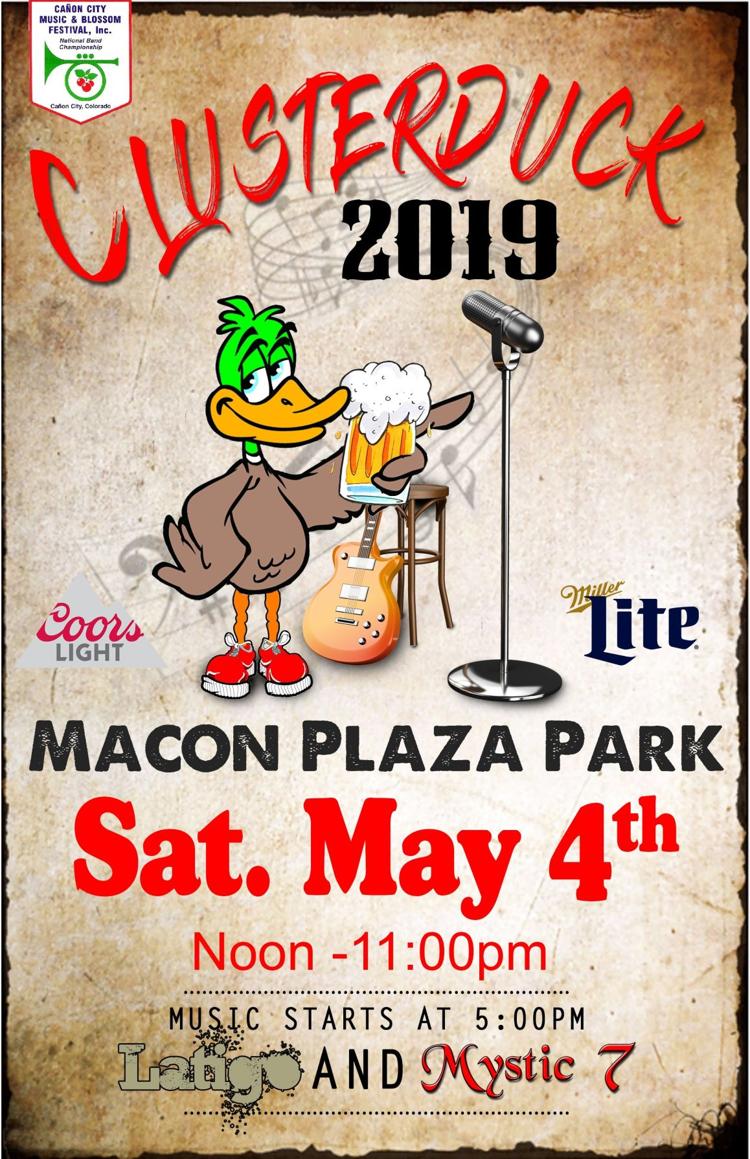 The Royal Gorge Rodeo is the Centennial State's oldest continuous rodeo, operating since 1872. Now in its 147th year, the rodeo runs Saturday and Sunday and is presented by the Cañon City Rodeo Association at the Jack Merris Arena in the city's rodeo grounds.
Saturday's events also include the Blossoms in the Park craft fair in Veteran's Park, featuring more than 100 vendors and a Kidz Zone. Starting at 5 p.m. Saturday is the "Clusterduck" concert, with performances by Colorado Springs bands Mystic 7 (rock) and Latigo (country) in Macon Plaza, at Macon Avenue and North 5th Street. There will be live music on the main stage throughout the day on Saturday and Sunday.