Mario Moser has been named executive chef at Phantom Canyon Brewing Co., 2 E Pikes Peak Ave. He comes from Flying Pig Pub & Kitchen in San Diego, where he was executive chef since 2011. There, he and his staff butchered all their meats, baked fresh bread, made fresh pastas, smoked meats, cured meats and grew much of their produce. He says he'll do much of the same style of cuisine at Phantom. Check it out with the new menu. Or get tickets for the "Sip in the Harvest Season" beer dinner at 6 p.m. Friday. For $54.67 per person or $97.11 for a couple, get a three-course dinner paired with handcrafted beer. Tickets: tinyurl.com/y96m4ppx.
Here's a look at the menu:
First: Celery root soup, corn fritter and tarragon with Dos Lunas Mexican Lager.
Old Colorado City food and wine bar transformed into steak, seafood and fondue restaurant
Second: Mushroom duxelle stuffed porchetta, tomato-braised kale with goat cheese dumpling, sweet potato mash, Boxcar Amber Ale and date reduction, honey and butter roasted carrots, house focaccia with Rye be Nice Rye Pale Ale.
Third: Beer float, caramel gelato, candied hazelnuts with Armageddon Time Oat Malt Stout.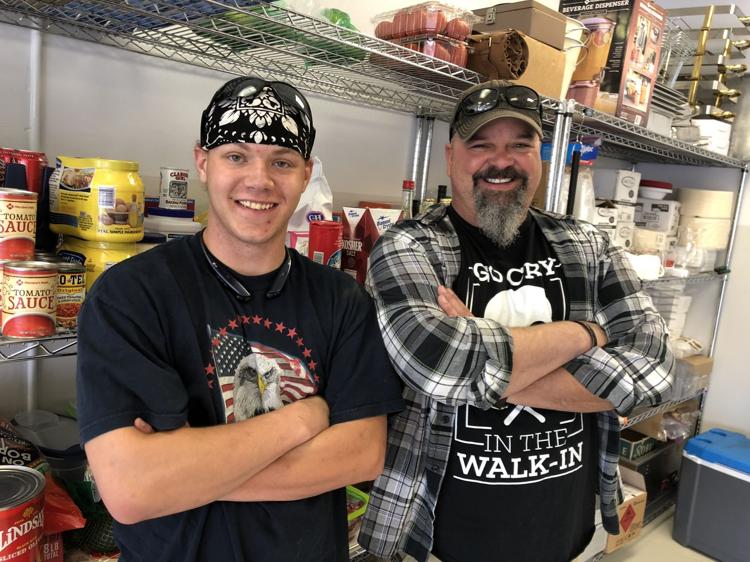 Chef's table
Eric Stewart, executive chef and owner of Boz Catering, 6628 Delmonico Drive, is offering chef's tables on Fridays from 4 to 8 p.m.
"The idea of a chef's table is to host VIPs and special guests," he said. "Arron (Ford, Stewart's apprentice) and I prepare tasting menus of Boz signature menus. They are sample menus of what we can do for our catering clients."
Follow Boz Catering on Facebook to see what Stewart and Ford will be preparing. Cost is $20 for a tasting. Seatings are at 4, 6 and 7 p.m. Reservations recommended. Details: 599-8109, bozcatering.com.
KRDO Table Talk'
Guests on the "KRDO Table Talk" radio show on 105.5 FM, 1240 AM and 92.5 FM at 1 p.m. Saturday:
• Noah Siebenaller, executive chef for Beasts & Brews, 7 Spectrum Loop (by Bass Pro Shop), talks about the butcher shop, restaurant and tap house, which is to open in mid-December or January with 99 self-serve beers on tap. The meat-heavy menu will be served from a counter. Vegan options will be available too. The butcher shop will be full-service, selling animals butchered from whole carcass to retail cuts along with a dry-aged beef program and in-house charcuterie program.
Visit beastsandbrews.com.
• Rick Petrocelly, founder and owner of The Olive Tap, 906 Manitou Ave., Unit 103, Manitou Springs talks about his store, where you can find more than 60 extra virgin olive oils and balsamic vinegars. Details: 358-9329, theolivetap.com/manitou-springs-colorado.
• JL Fields — founder and culinary director of the Colorado Springs Vegan Cooking Academy, author of four vegan cookbooks and a restaurant critic for The Gazette — is joined by Cody Rilo, chef at the Burrowing Owl, to talk about Colorado Springs Vegan Restaurant Week(end), Nov. 1-3. Details: tinyurl.com/y7xgmjp2.
• Leah Johnson, owner of Le Petit Croissant and author of "French Brunch at Home" cookbook, talks about her adult cooking classes, which teach how to make croissants, pan au chocolat, quiches, macarons and farmhouse bread and butter. She also teaches children's classes. Details: 282-9498, lepetitcroissant.com.