In the bread world, nothing speaks comfort food quite as much as a soft, flaky biscuit, and the Denver Biscuit Co. in Colorado Springs elevates that perception.
Many home cooks would agree that biscuits are easy to make. What separates DBC's are the way they're incorporated as the main stage of the meal, rather than as something subordinate.
Much more than a satellite off-shoot from its Mile High City roots, the local establishment is part of the trendy, impressive new dining scene on South Tejon Street. By day, until 2 p.m. during the week and 3 p.m. on weekends, the DBC bill of fare commands the space. Then, with no more visible effort than switching to a new menu, Fat Sully's Pizza takes over.
The two, along with the Atomic Cowboy bar, are part of the Atomic Provisions restaurant group. The bar and both eateries share the same hours.Think of it as a three-in-one place, depending on when you're there. My focus now is on those biscuits.
Dining review: Broken Bones BBQ's success goes beyond the smoked meats
The menu offers sandwiches with fillings piled high between two biscuit halves. Also available are plates that include biscuits as an integral component of the meal. The chicken pot pie ($11.95) is one of the most mushroom-enriched versions I've tasted. And this is no complaint. Additionally, chicken, peas and potatoes in a thick, garlicky gravy topped with crispy fried onion strips smother a biscuit. This goes beyond mere comfort to the contentment zone.
Shrimp and grits ($11.95) should more aptly be called a bowl rather than a plate with the biscuit as its centerpiece. French toast that doesn't use bread slices, a granola bowl and strawberry shortcake are among other possibilities. The granola, according to the menu, is house-made. This isn't the only item from the kitchen that's crafted on site.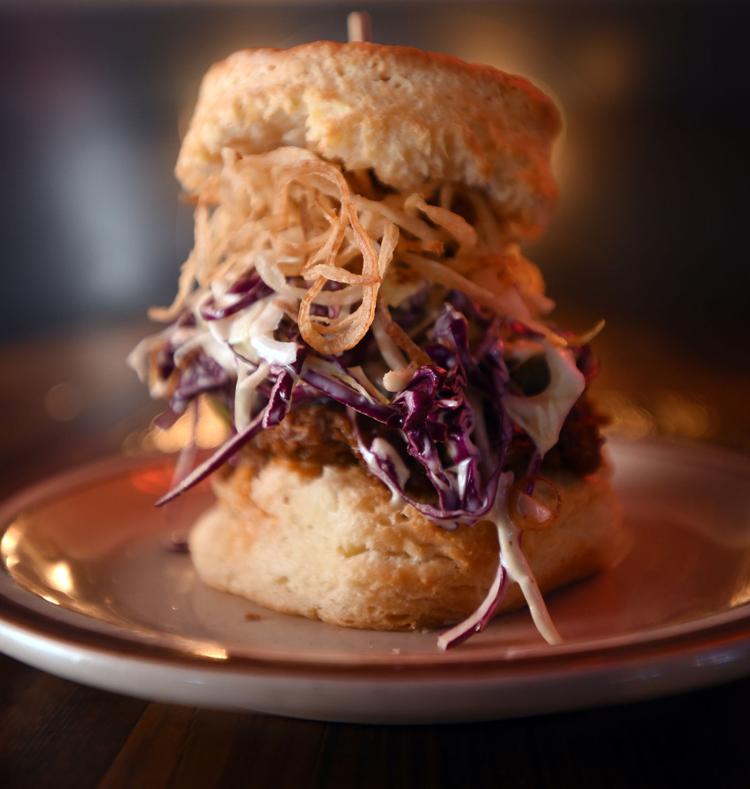 The pork in the Elmer ($10.95) is smoked for 10 hours. This sandwich is stacked at least 4 inches high with tangy, smoke-infused tender pork, covered with tart, creamy slaw and more of those fried onions. Forks and knives are indispensable. None of this is finger food.
Six of the 11 sandwich skyscrapers highlight buttermilk fried chicken, with the biscuit taking the place of the white meat's usual companion, the waffle. Although it was dark brown , the chicken on the Winona ($9.95) boasted a brittle, flavorful coating. House-made pimento cheese evoked taste memories of the South.
BLTs, ham, sausage and fried catfish also have appearances on the menu. Variations are offered with cheese, bacon, gravy and more. For an upcharge, one can always add an egg to make the meal more brunch-like.
It's difficult, but try saving room for the strawberry shortcake. Strawberry sauce and whipped cream on those biscuits shouldn't be missed.
I wouldn't mind trying the "giant" biscuit cinnamon roll ($5.95). I can only imagine it's gooey and sweet. Plus, you can add bacon, which everyone knows makes all things even better.
Because the DBC cuisine is served until midafternoon, diners can enjoy the plentiful natural light that streams through the large windows. The staff is friendly, lively and mostly attentive. As our meal waned, so did our server's focus on water glasses. Yet overall, she was observant and eagerly answered all our questions. The space is large and open, but noise was not an issue. Of course, once the food arrived, we had little we wanted to talk about. We were too busy eating.
Restaurant: Denver Biscuit Co.
Address: 528 S. Tejon St.
Contact: 208-4770; denbisco.com
Restaurant character: Fun and trendy
Rating total: 4.33 of 5 forks
Food: 4.5 of 5 forks
Ambiance: 4 of 5 forks
Service: 4.5 of 5 forks
Hours: 8 a.m. to 2 p.m. weekdays; 8 a.m. to 3 p.m. weekends
Entrees: $8.95-$12.20
Alcohol: Yes
Credit cards: Yes
Vegan options: Yes
Outdoor dining: Yes
Gluten-free options: Yes
Wi-Fi: Yes
What's online as of Dec. 12:
• No votes on Foursquare
• 4 of 5 stars based on 10 reviews on TripAdvisor
• No ratings on Zomato
• 4.5 of 5 stars based on 61 reviews on Yelp
• Active on Facebook
Excellent rating Oct. 16 by El Paso County Public Health.