Given its price points, Cheyenne Mountain Resort's Mountain View Restaurant should fall into the fine dining category. Torn upholstered chairs and inconsistent service, however, quickly dispel that notion.
The expansive dining area boasts a lodge-like interior with wooden tresses and occasional stone. A buffet is also part of the landscape. This is an all-you-can-eat option ($39.95) where themes vary nightly. Italian was the featured fare on our visit, but other possibilities include barbecue, seafood and "Colorado Comfort," which we learned is composed of meats and potatoes. A variety of salads, selection of entrees and numerous desserts are included.
Dining review: 2 men bring authentic, delicious Neapolitan pizza to Colorado Springs
We stuck to the regular menu.
Entrees fall into the $22 to $35 range: spaghetti and (singular) meatball at the lower end with filet mignon or ribeye steak at the upper. I like spaghetti, but it's not something I'd typically order — even at an Italian restaurant. Our server said it's prepared well, the meatball is large and ordering it "makes you feel like you're a kid again." As much as I want to be younger, I don't need to go back that far.
Both the hostess and our server noted the steaks are exceptional. The mushroom ravioli and salmon also warranted mention.
Salads may be ordered as entrees, or at a reduced price to supplement a main course. A $3 charge is added for splitting dishes. We started with the Caesar salad ($11), which distinguished itself in several ways. On the plus side, a generous amount of shaved Parmesan cheese on top of the romaine lettuce. On the surprise side, the inclusion of tomatoes. But disappointment surfaced in the lack of freshly ground pepper, which is usually part of the theater associated with Caesar salads. Instead, we were left to our own devices with a nearly empty pepper shaker. A large grinder at the nearby servers' station was visible, and even after asking for more pepper, it remained in place.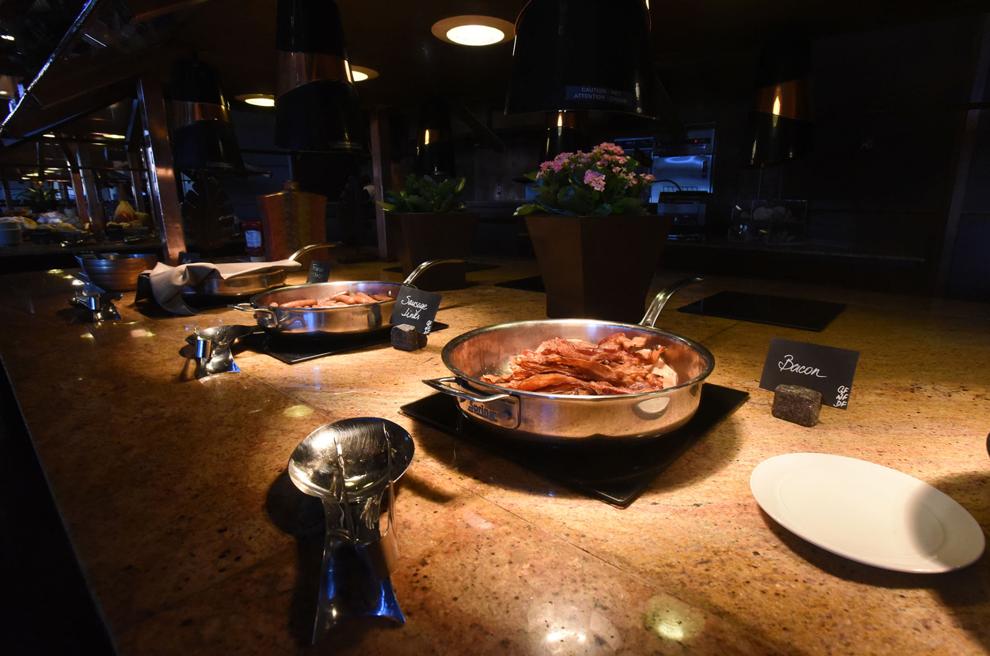 Not long after resigning ourselves to eating the pepper-free salad, our server stopped by to tell us our entrees would be out in "three, four or five minutes." He must have meant that to be a cumulative number, except it was closer to 16, 17 or 18 before they finally arrived.
This provided time to take in the view through an expansive bank of south-facing windows. However, at night the vista is made up of twinkling exterior lights and reflections of the restaurant interior, including other diners — few of whom were drawn to the buffet.
Admittedly, the 12-ounce ribeye was worth the wait. Cooked to a perfect pink in the middle, the meat was well-seasoned and tender. The accompanying mashed potatoes were less impressive and the asparagus, as the seasonal veggie, was a treat since, well, it isn't quite in season.
The mushroom ravioli ($25) was enough for two or more to share. Bulging with chopped mushrooms in a rich cream sauce with hints of cognac, it did not disappoint. A small amount of spinach atop the pasta was somewhat baffling, though, as the bitter taste of the greens was not enhanced by the mushroom flavors. I like spinach, but it wasn't necessary.
What is needed is the planned major renovation, which, according to our server, will give the place an up-to-date look.