When most people pass through the gates of Disneyland, they enjoy the moment. This is the Magic Kingdom after all, so there's plenty of things to divert your attention right as you walk past the turnstile.
There's a train up ahead waiting to take visitors around the park. There's balloons for sale shaped like Mickey Mouse's head inside another, larger balloon. And there are families clumped together, looking at a park map and plotting out their day.
These people were nothing but obstacles for me and my friend Chuck. We blew past these looky-loos like a Ferrari zooming past Sunday drivers on the Pacific Coast Highway. We had somewhere to be — Galaxy's Edge.
The "Star Wars" expansion opened in California on May 31 and in Florida on Aug. 29. A flight to Los Angeles is brief and affordable, but for this Colorado Springs resident, Galaxy's Edge seemed liked like a galaxy far, far away. Fortunately, a business trip to L.A. made for an excellent excuse to drive to Anaheim. I texted Chuck, a California native, and we made arrangements. Our play date was set, the Force was with us.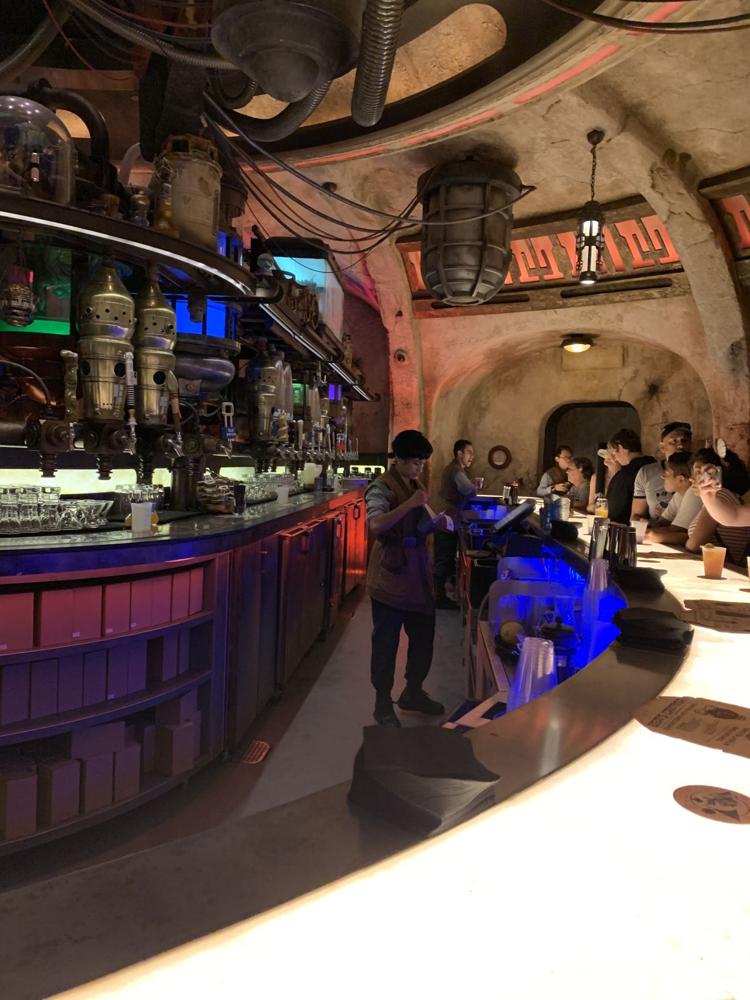 Oga's Cantina
After race-walking through Main Street USA, Adventureland and Critter Country, we finally arrived at Galaxy's Edge, or as the locals dressed in "Star Wars"-themed attire called it, Black Spire Outpost on the planet of Batuu. After taking roughly 368 pictures in two minutes, we had to move. We were having breakfast at Oga's Cantina, modeled after the cantina on Tatooine from "Star Wars: A New Hope."
Oga's is best accessed by making an appointment online at disneyland.com or through the Disneyland app. I used the latter the day before our trip as we had some friends who had visited Galaxy's Edge without an appointment and couldn't get inside. Oga's is mostly standing room only, but Chuck and I shared a large table with two families. Everyone at the table ordered something different, and with a communal vibe, we shared oddly named delicacies.
Chuck and I each had a Mustafarian Lava Roll ($6), which is a cinnamon roll, while our neighbors had Batuu Bits (an $8 snack mix) and some legendary blue milk, which came with a vanilla-butter sugar cookie on top. I tried the blue milk and it doesn't taste like milk at all. While the ingredients haven't been published, the dairy-free concoction has a coconut and lime flavor. It sells for $13 at Oga's but is available for $8 (without the cookie) at a stand in Galaxy's Edge.
Oga's Cantina is one of the few places in Disneyland that serves alcohol, so we gave a couple of beverages a try. The Fuzzy Tauntaun ($15), which looks like a beer, contains vodka and schnapps and has a foam that numbs your lips. The Yub Nub ($42), a mix of rum and passion fruit, was quite tasty and comes in a souvenir Endor mug.
The hilarious robot host, DJ Rex, was wildly entertaining, and Oga's was a lively place, but after our 45-minute seating period was up, it was time to pilot the Millennium Falcon.
Smuggler's Run
There's only one ride available in California at Galaxy's Edge — Millennium Falcon: Smuggler's Run. A second ride, Rise of the Resistance, opens Jan. 17. (It opened in Orlando on Dec. 5.)
In Smugglers Run, six people get to sit in the cockpit of the Millennium Falcon, shooting into space to participate in an interactive mission. Each person in the group is assigned one of three roles — pilot, gunner or engineer. My favorite was pilot.
Once you've buckled in, a character named Hondo Ohnaka guides you through an adventure that will have you bouncing around and yelling "Woohoo!" like Han Solo. We rode Smuggler's Run three times, partly because it was so fun but also because it's so authentic looking.
You really do feel like you're on the Millennium Falcon. This attention to detail is evident all over Galaxy's Edge but was most noticeable here.
With only one ride available, wait times can be a little long for Smuggler's Run, but there's a way to experience it faster. Since there were only two of us, we made our way to the single rider line. Smuggler's Run doesn't have Fast Pass access like most other Disneyland rides, so we found the single rider line to be our most efficient way to cut down on our wait time. We were also able to ride together every time.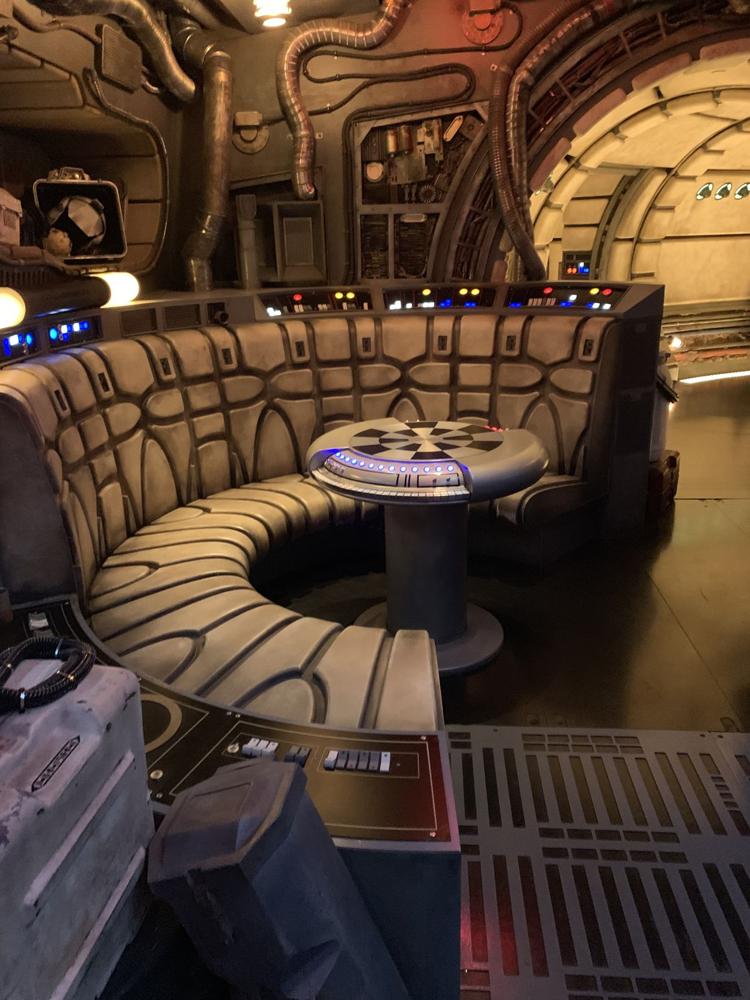 Savi's Workshop
Next, we headed to Savi's Workshop. It was time to build my own lightsaber. You need an appointment if you want to build one, which I had managed to snag the day before our trip. However, I recommend planning further ahead. You can make reservations up to 60 days in advance. As with Oga's Cantina, walk-in appointments are hard to come by.
A guest is allowed to come with you, so Chuck and I made our way into a covert workshop led by a group of "Gatherers." Once inside, we stood in front of a work area. A story about kyber crystals and Jedis sets the mood as the parts to assemble your hilt are placed before you. There are four lightsaber themes: peace and justice, power and control, elemental nature, and protection and defense. I chose peace and justice.
Young (or old in my case) Jedis also choose the color of their kyber crystal. This determines the color of your blade. The four choices were green, violet, red and blue. I chose violet. Once assembled, the Gatherers help connect your hilt to your blade and everyone lights up.
At $200, building your lightsaber isn't cheap, but it is a memorable experience that provides you with an authentic-looking souvenir. It also makes for some great photo ops in front of the Millennium Falcon. Not that I would nerdily pose in front of it with a lightsaber, no way.
Time to explore
Once my lightsaber was built, it was time to look around. We took a ton of pictures, bought souvenirs at the many merchants inhabiting the Black Spire Outpost and got a kick out of seeing Stormtroopers pestering tourists, asking them questions about the location of rebels before eventually telling them to, "Move along, move along." We also spotted Rey, Kylo Ren and Chewbacca.
After finally emptying my bank account by building my own astromech ($100) at the Droid Depot, we strolled around, impressed by the attention to detail. We weren't the only ones who noticed. People would randomly touch blinking panels or test doors that looked like they should go somewhere but don't open. Not that anyone felt foolish.
Everything at Galaxy's Edge feels purposeful and looks authentic. It's a place where you feel immersed in the "Star Wars" universe, which is exactly what visitors are hoping for.
Gazette TV critic Terry Terrones is a member of the Television Critics Association and the Broadcast Television Journalists Association. You can follow him on Twitter at @terryterrones.