Go for the art and stay for the powwow, the food and the living history lessons. The Tesoro Cultural Center's 19th annual Indian Market & Powwow returns to the grounds of The Fort restaurant outside Denver this weekend.
A juried art show featuring the works of 46 American Indian artists and a powwow honoring Indians and veterans will be held on the Morrison property Saturday and Sunday.
"It's a wonderful event that has grown significantly over the past few years," said Brooke Traylor, managing director of Tesoro Cultural Center, the nonprofit that is housed at The Fort. "The juried art show will have a wide variety of media displayed, including the work of silversmiths, sculptors, weavers, painters, potters and photographers. In addition to that, we will have a two-day competition powwow with indigenous Americans from all over the country."
It's one of the cultural center's biggest events, along with its 1830s Rendezvous & Spanish Colonial Art Market in September.
"People love seeing the art and speaking with the artisans as well as watching the dancing and seeing all the regalia," Traylor said.
The powwow — an American Indian ceremony signified by dancing, drumming, socializing and singing — commences at noon each day and continues until 4 p.m. Contest results will be announced Sunday afternoon.
"Numerous tribes will be represented. I love watching the grand entry, which will be at noon both days. And on Saturday we always honor an American Indian veteran, and that ceremony is very, very moving," Traylor said.
List: Pikes Peak region home to dozens of free summer concerts
At 1 p.m. Saturday, Colorado Army National Guard Sgt. 1st Class Cindy Littlefeather, of the Diné (Navajo) Nation and a member of the Sisters Nations Color Guard, will be feted and presented with an embroidered wool blanket. Littlefeather is "of the Mountain Cove Clan and born for the Sleepy Rock people. Her maternal clan is of the Towering House and her paternal clan is of the Bitter Water," according to thefort.com. She has served for 24 years with the Guard and remains on active duty.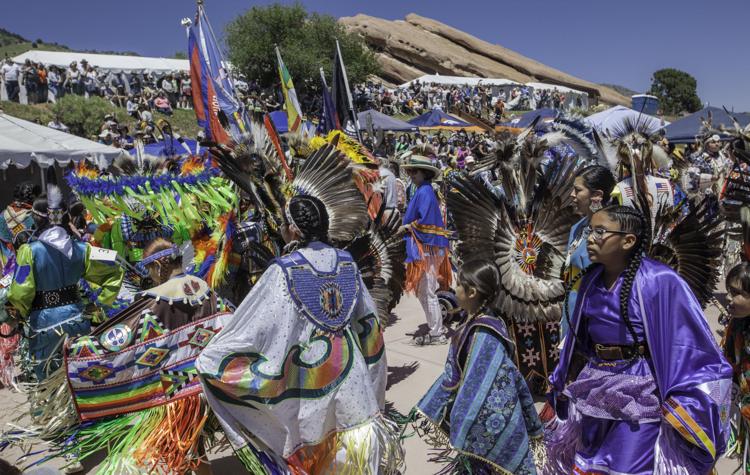 Remembering the Brave Foundation will have a display honoring fallen American Indian veterans.
Denver's Tocabe, An American Indian Eatery food truck will be serving traditional Indian frybread and frybread salads. The Fort Restaurant will serve burgers topped with red or green chile, buffalo and wild boar sausage, posole, Frito pie and enchiladas suiza.
Tesoro's educational partners the Denver Museum of Nature and Science, History Colorado and Hawkquest will be on hand — the latter with live eagle and hawk demonstrations. Special events for children are a "hands-on history room," scavenger hunt and storytelling in an authentic full-size teepee.
MICHELLE KARAS, THE GAZETTE, MICHELLE.KARAS@GAZETTE.COM