This year the colorful hot air balloons will go up, up and away from sites across the city during the annual Labor Day Lift Off.
People are encouraged to watch early-morning launches from their yards and porches, starting at 7 a.m. Saturday and Sunday, Sept. 5 and 6, of the Labor Day weekend. 
It's a change from the 43-year Memorial Park holiday balloon festival which drew more than 150,000 each year to morning launches and evening balloon glows. Crowd restrictions were made necessary because of the COVID-19 pandemic. 
One of the largest hot air balloon festivals, the Labor Day Lift Off is one of the few balloon events still planned worldwide with 2020 modifications. 
The community will be able to see balloons filling the city skyline, launching from 10 to 12 locations around town including neighborhood parks and school grounds, said director Scott Appelman. If the weather cooperates, there will be pop-up balloon glows at 7 p.m. Saturday that can also be seen from homes and vehicles. Locations will be announced.
All sections of the community have planned launch sites, from far northeast and northwest, Garden of the Gods and down to southeast and southwest and Security-Widefield. Crowds aren't allowed at launch sites but can see the balloons flying. Follow latest announcements and schedules at coloradospringslabordayliftoff.com.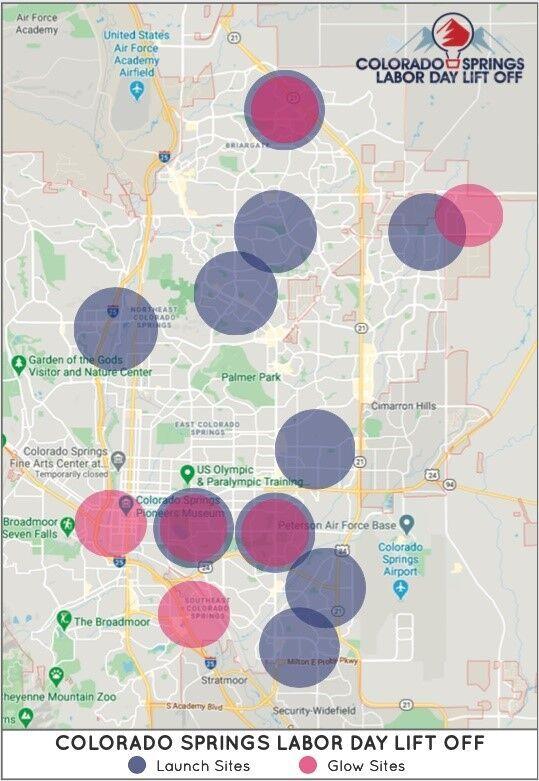 Eight local radio stations and KKTV Channel 11 will provide lift off coverage and commentary. There are photo contests and a scavenger hunt described on the website and Facebook page.
Advance reservations are available for balloon rides with Rainbow Ryders, $250 per person, 800-725-2477.
"This is a happy event during these times,"said Appelman, "and we'll be back in Memorial Park next year."