If you're searching for a place to ring in 2019 with friends (and friends you haven't met yet), festivities abound in the Pikes Peak region and the Denver metro area. We've compiled some of the bigger New Year's Eve events. All are on Monday, Dec. 31, unless otherwise noted.
Celebrations in and around Colorado Springs include:
• Adaman Club Fireworks, midnight atop Pikes Peak, free from your own backyard.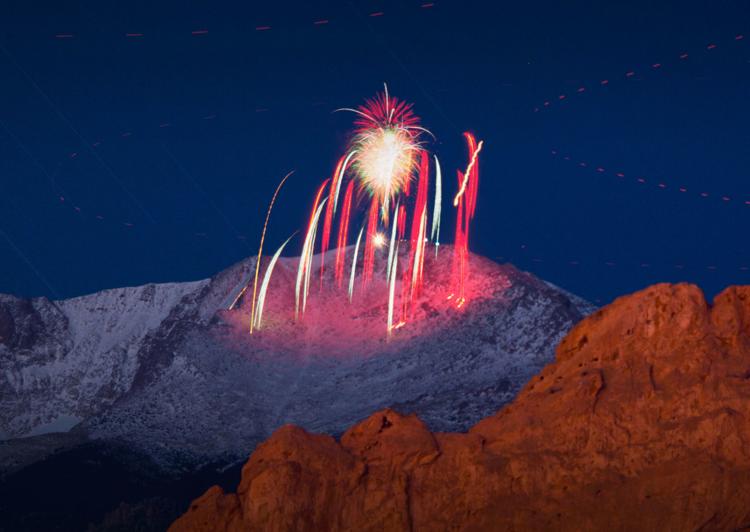 • 10th Annual Pikes Peak Children's Museum Noon Year's Eve, 10 a.m. — 2 p.m., Colorado Springs Event Center, 3960 Palmer Park Blvd. Advance tickets: $7, single; $20, family up to four people; $25, family up to six people; children 2 and under, free. Door prices: $10, single; $30, family up to four people; $35, family up to six people. This family-friendly PPCM fundraiser features a noon balloon drop, children's activities, a 1 p.m. character dance party and a silent auction. facebook.com/events/180863502591030/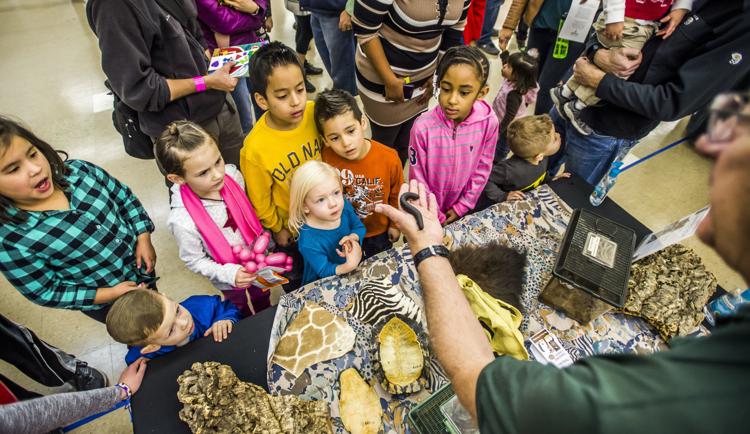 • Super Bubble with Jim Jackson, 11 a.m., 2 and 4 p.m., Millibo Art Theatre, 1626 S. Tejon St. Families can ring in the new year early with Mr. Guffaw (Jackson) and his tricks, gags and giant soap bubbles. Tickets: $12.50 each; Family Fun Pack of four for $44. Info: 465-6321, themat.org
• New Year's Eve Dinner Train, Royal Gorge Route Railroad, 6:30 p.m. departure for a three-hour ride (arrive 45 minutes early). Cost: $124 per person in the dining car, $134 per person in the Observation Dome, ages 21 and up. Features three-course dinner menu options by executive chef Jeremy Garnett, glass of sparkling wine. Reservations, 888-724-5748 or 276-4000. Info: royalgorgeroute.com
• Colorado Springs Philharmonic Swingin' New Year's Eve, 7:30 p.m. (doors, 6:30 p.m.), Pikes Peak Center. Tickets: $26-68. Conductor Thomas Wilson, vocalist Donna Devin and the orchestra will usher in 2019 in big band style. Info: 520-SHOW (520-7469), csphilharmonic.org/concert/new-years-eve-2018/
• New Year's Eve Gala, Glen Eyrie, 3820 N. 30th St., 5 to 10 p.m. Tickets: $230 per couple, plus tax, with dinner prepared by Glen Eyrie's executive chef and served in The Great Hall of the Castle, music and dancing. Room packages available. Info: Gleneyrie.org.
• The Broadmoor New Year's Eve Gala, Broadmoor Hall, 1 Lake Ave., doors at 7:30 p.m. Cost: $250 per person, plus tax and fees; $385 per person with room, based on double occupancy. This black-tie affair includes dinner at 8 p.m., dancing from 9:30 p.m. to the Broadmoor Pops Orchestra and Syndicate Band, dessert bar, champagne toast, balloon drop at midnight. www.broadmoor.com/new-years-2018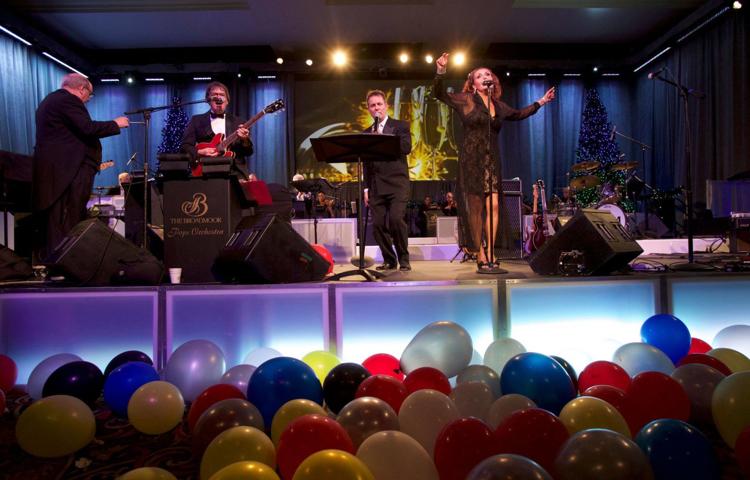 • The Broadmoor New Year's Eve Bash, International Center, 1 Lake Ave., doors at 8 p.m., small plates served at 8:30 p.m., dessert buffet begins at 9:30 p.m. Cost: $150 per person or $75 per person arriving at 9:30 p.m. This casual party includes drink coupon, live music by Soul X and DJ Karson, dancing, tapas buffet, dessert buffet, confetti cannon, midnight Champagne toast. Room packages available. www.broadmoor.com/new-years-2018
• Extravagant New Year's Eve Costume Party: Mardi Gras Remix, Hotel Elegante, 2886 S. Circle Drive, 3 p.m.-12:01 a.m., $364 per couple, $35 VIP upgrade. Tickets include hors d'oeuvres, cocktails, Champagne toast, balloon drop, Cajun dinner buffet, three bands, four DJs, poker and gaming tables, party and gaming rooms, overnight accommodations and New Year's Day breakfast, 576-5900. Info: www. hotelelegante.com.
• All That 90's New Year's Eve Bash, 8 p.m. to 2 a.m., The Gold Room, 18 S. Nevada Ave., 21 and over, entertainment by DJ Craftmatic and the Champagne Cabaret featuring Peaks and Pasties. Tickets: $65 per person, $115 per couple; includes party, hors d'oeuvres, Champagne toast and entertainment; VIP options additional, includes reserve seating. facebook.com/goldroomlive/. Call 323-2051 for room packages. Info: goldroomlive.com
• Gatsby New Year's Eve at Motif Jazz Cafe, 182 E. Cheyenne Mountain Blvd. Options: 6-8 p.m. dinner party or 9 p.m.-12:30 a.m. dinner party featuring live music by Wayne Wilkinson and Krista Joyce. Tickets: $45-$60, facebook.com/events/349332425879614/. Includes coursed dinner (choice of three entrees) and Champagne. Info: 645-8000, motifjazzcafe.com
• New Year's Eve Dance Party with Suga Bear & The Showtime Band, starts at 9 p.m., Stargazers Theatre & Event Center, 10 S. Parkside Drive. 21 and up. Table seat: $50; theater seat: $35. Included: Hors d'oeuvres, favors, midnight Champagne toast. stargazerstheatre.com
• New Year's 2019 Bash, Cowboys Night Club, 5 N. Tejon St., 4 p.m. — 2 a.m. Tickets: $15, advance; $20 at the door. 21 and up. Entertainment by Latigo. Advance tickets include steak or chicken dinner, 4-8 p.m., or bottle of Champagne for midnight toast. csnightclubs.com. This party is part of a New Year's Eve Block Party at Blondie's, Red Martini, Gasoline Alley, The Mansion and Cowboys. Stop by any location for your $15 pre-sale ticket good for all five clubs.
• MAGIC 98.9 FM & The Social Presents: A Magical New Year's Eve Party, The Social, 3506 N. Academy Blvd., 9 p.m.-2 a.m. Dancing to DJ Big Mack and DJ Lemonhead, party favors, complimentary Champagne toast. General admission, free; VIP seating options, $75-$125. facebook.com/events/349581839178222/
Denver options:
• New Year's Eve Fireworks in Denver, shows at 9 p.m. and midnight, best viewing along the 16th Street Mall, free. Info: denver.org
• Noon Year's Eve, Children's Museum of Denver, 2121 Children's Museum Drive, 9 a.m.-4 p.m. Countdowns and ball drops each hour outside the Plaza, bubble-wrap fireworks and rainbow confetti, beatboxer Mr. Kneel, crafts, science experiments, special characters and festive treats. Admission: $16, ages 2-59; $14, age 1 and 60+; free, children under 1. Info: 303-433-7444, mychildsmuseum.org
• Bunk with the Beasts sleepover for children ages 5-13, Denver Zoo, 2300 Steele St., 6 p.m. Dec. 31 to 10 a.m. Jan. 1. Includes Zoo Lights, dinner, snack and breakfast. Tickets: $75 nonmembers. denverzoo.org
• A Night In Vienna by Colorado Symphony, conducted by Brett Mitchell, Boettcher Concert Hall, Denver Performing Arts Complex, 1400 Curtis St., 6:30 p.m. Tickets: $44-$104. Program includes polkas, waltzes and marches from Nicolai, Strauss, Verdi, Waldteufel and Bernstein. coloradosymphony.org
• Resolution NYE 2019, McNichols Civic Center Building, 144 W. Colfax Ave., 9 p.m. to 2 a.m., 21 and up, $99-$175. Three levels of dance parties, open bar, balloon drop, light show, DJs and bands. www.resolutiondenver.com
• 17th White Rose Gala, Ellie Caulkins Opera House, Denver Performing Arts Center, 1385 Curtis St., 9 p.m.-1:30 a.m., 21 and up. Tickets: $79-$299, includes midnight confetti blast, multiple floors, performers, DJs and the Je T'aime Swing Band. Theme is Roaring '20s/Great Gatsby. www.WhiteRoseGala.com.
• Denver's Grandest New Year's Eve Party, Grand Hyatt Denver, 1750 Welton St., 8 p.m.-1 a.m., 21 and up. Tickets: $159. Entertainment includes the Nacho Men band, dance party, silent disco, karaoke, multiple ballrooms. Info: 303-295-1234, denver.grand.hyatt.com/nye.
• Denver NYE Black Tie Party 2019, Westin Hotel, 10600 Westminster Blvd., Westminster, 8 p.m.-2 a.m. Tickets (pre-sale only): $94. Includes open bar, DJs, bands, casino games, confetti blast and Champagne toast. Formal attire encouraged. newyearsevenight.com
• Rebellion & Resolution, Le Meridien Denver Downtown, 1475 California St., 8 p.m. to 2 a.m., 21 and up. Tickets: $100 general admission; $125 VIP (exclusive rooftop entry to 54thirty venue). Admission includes three drink tokens, DJ Lea Luna, three speakeasy-inspired rooms, hors d'oeuvres, Champagne toast at midnight. Semiformal. lemeridiendenverdowntown.com
• Decadence 2018, Colorado Convention Center, 700 14th St., Dec. 30-31, doors open at 6:30 p.m., 18 and over. Two-day pass: $239 plus tax and fees. Tickets: $179-339. Bands include Bassnectar, 1788-L, 3Lau, Above & Beyond, Alison Wonderland, Anti Up, Big Wild and Camelphat. decadencenye.com/co
• ITCHY-O Super-human New Year's Trifecta, Dec. 29-31, Oriental Theater, 4335 W. 44th Ave., doors 8 p.m., show 9 p.m. The 57-member electronic percussion orchestra will perform with special guests PPL MVR (Dec. 29), Radio Scarlet (Dec. 30) and Mr. Pacman (Dec. 31). Ages 18+. Tickets: $30-$50; three-day passes, 90-$120; itchyo.com/events
Note: RTD is offering free bus and rail service on its Denver metro system from 7 p.m. Dec. 31-3 a.m. Jan. 2. Info: rtd-denver.com