9:17 - The Academy must be in a hurry to get to local news because they don't give the best picture winner much time at all. Wow, such a fast ceremony. If there's no host next year that will be just fine with me. 
Hope to catch you all in 2020!
9:14 - Whoa! We have our first real shock of the night as "Green Book" wins for best picture. I don't think anyone saw that coming. I was thinking perhaps "A Star is Born" and "Bohemian Rhapsody" had quite a bit of momentum as the night went on, but "Roma" was the favorite going into tonight. 
So that said, "Green Book" winning is a big surprise. 
9:10 - Holy, cow, the final award of the night (Best Picture) is next. This has to be the fastest Oscars presentation in years. 
Upset win by 'Green Book' caps Oscars' historic night for diversity
9:08 - The director Oscar goes to Alfonso Cuaron. The man treats Oscars like Pac-Man treats power pills, he gobbles them up. By the way, this makes the second Mexican in a row to win the best director Oscar (Guillermo Del Toro won for "The Shape of Water" last year). As a Mexican-American, this makes me quite proud. 
9:02 - Best speech of the night goes to Olivia Colman. It was funny, self-deprecating and heartfelt. I'd give her an Oscar just for her speech. 
8:59 - And Olivia Colman wins. She's such a great actress! She's fantastic in everything I've ever seen her in. I think Lady Gaga may have had some support here, and while she was great in "A Star is Born," there's a giant different between Gaga (that's what I call her when we're hanging out) and Olivia Colman.
On a related note, Glenn Close still hasn't won an Oscar.   
8:57 - Best actress is up. This is Olivia Colman's to lose. 
8:45 - Rami Malek wins the best actor Oscar! I'm a little surprised. I thought Bradley Cooper had a decent chance at this one. "Bohemian Rhapsody" is having a big night. 
8:42 - Barbra Streisand just said "Colorado Springs." I'm pretty sure that's never happened before. 
8:38 - Of all the stupid decisions the Academy has made in the last year, going without a host isn't one of them. The pace tonight seems a lot faster without a host you have to showcase.   
Ron Stallworth separates fact from fiction in "BlacKkKlansman" | David Ramsey
8:34 - It was Margot Kidder, who naturally makes me think of "Superman," which I loved. I was seven years old and living in Hawaii when "Superman" came out in 1978 and it really had a strong impact on me. It ignited my love of comic books, which I still have to this day. Kidder's Lois Lane was a strong character who didn't back down to anyone. She was great in the role. But I digress.  
8:30 - The In Memoriam section is about to begin. Who did I forget that died in 2018?
8:27 - Surprise, best original song goes to "Shallow." Iago the parrot just texted me, "I told you so." That guy is as annoying as he sounds. 
8:26- Breaking News: Constance Wu and Chadwick Boseman just became members of the Cool Name Club. 
8:24 - "Black Panther" wins for original score. That's three trophies going to Wakanda tonight. 
8:15 - Adapted screenplay goes to "BlacKkKlansman!" Amazingly, it's the first Oscar win for Spike Lee.  
Trump goes after Spike Lee after Oscars speech and 'BlacKkKlansman' win
8:12 - Original screenplay goes to "Green Book." I haven't seen this film yet but want to. Which leads me to something that bothers me about the Oscars. There were a few films I wanted to see but they weren't available for rent, on demand and were no longer in theaters.
Here's an idea - how about making every best picture nominated film available for viewing through streaming or on demand BEFORE the Academy Awards? Every film would get a financial bump. The way I look at it, it's a gamble to wait to see if your film wins an Oscar to cash in on its success. 
8:10 - I'm pretty sure Samuel L. Jackson is the only person allowed to tease Spike Lee. I'll have to remember that. 
8:08 - "Skin" wins for live action short. The best live action short I ever saw was when I was in elementary school. If you've seen "The Red Balloon" I know how old you are. Approximately. 
8:03 - Lady Gaga and Bradley Cooper just crushed "Shallow." Give them the Oscar for best song now. And no I don't have tears in my eyes. I just found out I may have a pizza roll allergy and I'm upset about it. 
7:57 - The visual effects Oscar goes to "First Man." Hope they enjoy the only win they'll likely get tonight. 
7:49 - "Period. End of Sentence" (a film about menstruation) wins for best short documentary but the question I'm left with is - if you present two awards do you get two gift bags?
And as I'm dreaming about $50,000 gift bags I missed the quote of the night so far. 
"I can't believe a film about menstruation just won an Oscar!" - #PeriodEndOfSentence director Rayka Zehtabchi #Oscars pic.twitter.com/tM81FXJ91K

— Entertainment Weekly (@EW) February 25, 2019
7:46- How do you go about seeing an animated short ("Bao" won, by the way)? That's a serious question. I know a lot about the entertainment industry but even I have no idea where most people see these. 
7:43 - I thought Aquafina was a bottled water. Turns out it's a person too. You learn something new every day. 
7:40 - I'd also recommend David Ramsey's interview with Ron Stallworth, subject of the Spike Lee joint "BlacKkKlansman." Good read. 
7:38 - If you get a chance I highly recommend reading Seth Boster's story on the best films from 2018 snubbed by the Oscars. 
7:33 - The camera just panned to Willem Dafoe. I was so startled I dropped a pizza roll on the floor. I'm sure he's a nice man but the dude is the scariest looking person alive. 
7:32 - The Green Arrow agrees with me. 
I'm not sure why Spider-Man: Into the Spiderverse wasn't nominated for best picture.

— Stephen Amell (@StephenAmell) February 25, 2019
7:30 - "Spider-Man: Into the Spiderverse" wins best animated film. I enjoyed "The Incredibles 2" but Spiderverse was one of the best films of 2018. If I had my way, it would be in the running for best picture. It was fantastic. 
7:24 - Mahershala Ali wins best supporting actor! That's his second Oscar. Mahershala Ali is in the Cool Name Club, right along with fellow founding members Chiwetel Ejiofor, Rip Torn and Jean-Claude Van Damme. 
7:19 - "Bohemian Rhapsody" wins its third Oscar of the night for editing. They're in good shape right now. 
7:18 - Michael Keaton is out to give out the editing award. All I see is Batman. That's right, Michael Keaton is my Batman. I said it. 
7:14 - Another Oscar nominated song performance. I'm just waiting for Bradley Cooper and Lady Gaga to come out and sing "Shallow." That's a powerful song. 
On an unrelated note, what do Lady Gaga's friends call her? Gaga? Stef? If she was a high school buddy of mine and became successful as an adult I'd have a hard time calling her Gaga. That'd be weird. 
I had a phone interview with M. Night Shyamalan once and asked him a similar question. He said his friends just called him Night. I could live with that one. 
7:07 - I'm Iago the parrot from "Aladdin" level shocked that "Roma" wins best foreign language film. 
7:03 - Just saw an add for "The Fix," an ABC show coming in March. Marcia Clark is sure making a name for herself as a producer. And yes, I do mean former district attorney Marcia Clark. This fictional series is based loosely on OJ Simpson's murder trial. Might be interesting. 
The 10 best movies from 2018 snubbed by the Oscars — and how to watch them
6:59 - And "Bohemian Rhapsody" wins for sound mixing. Hmm. Is this a sign that "A Star is Born" is in for a rough night or is Rhapsody just getting some of the "lesser" awards?
6:56 - "Bohemian Rhapsody" wins for sound. I had some issues with the film but enjoyed it overall. Rami Malek was incredible. He'd get my best actor vote. 
6:52 - Why do networks pay big bucks for the NFL and the Academy Awards? Just look at the commercials. Giant awards shows like the Oscars and events like the Super Bowl (and even regular season games) draws audiences that have to watch live. Networks don't just make big money for ads during this time, it's also a great time to promote their own shows. 
I've already lost count of how many "Whiskey Cavalier" ads I've seen. By the way, I've watched the pilot. It's pretty meh. 
6:45 - Alfonso Cuaron wins the Oscar for cinematography. If "Roma" wins best picture it will be a big deal for Netflix and Hollywood.  
6:42 - While Tyler Perry walks on stage let me give you the set up here. At my viewing party are myself, the Mrs. and the true queen of the castle, our dog Butters. There's a good chance she'll be grabbing a pizza rolls when I'm not looking. 
6:40 - "Black Panther" wins for production design. One of the presenters was Jennifer Lopez, who is dressed like a living Oscar.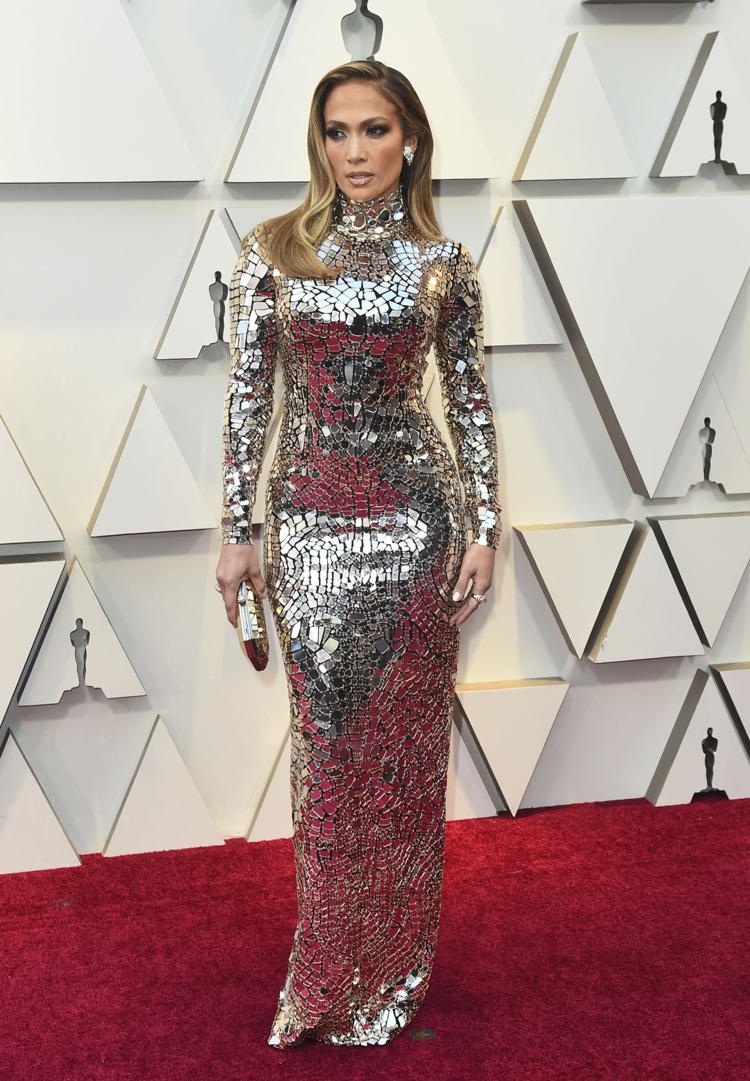 6:38 - Breaking News: We have the first round of appetizers at Casa de Terrones tonight - crab rangoon and pizza rolls. We know how to throw an Oscars party. 
6:30 - "Black Panther" wins for costume design. Wakanda forever! Great film. On Netflix if you haven't seen it. 
6:28 - "Vice" wins the Oscar for makeup. They deserve it for transforming Christian Bale. However, the name "Vice" is so confusing. I keep thinking of the HBO show or the website when I hear it, not the movie. 
6:16 - "Free Solo" wins best documentary. Pretty happy with that. I actually met Alex Honnold at the Television Critics Association winter tour two weeks ago. Really interesting guy. Had a chance to ask him a bit about how he views climbing and a couple other things. Hyper intelligent guy with a unique view on what he does. 
6:11 - Regina King wins! No real surprise but certainly well-deserved. Strong acceptance speech as well. 
6:09 - Supporting actress is up first. I like how the Oscars gets to business, and then puts you to sleep for 2 hours. 
6:07 - Maya Rudolph, Tina Fey and Amy Poehler basically asking as de facto hosts. The Academy just saved themselves a lot of money. 
6:03- Thanks Nichole! And thank you to Adam Lambert who reminded everyone that he's no Freddie Mercury. That opener was dreadful. I felt like I was watching an off strip Las Vegas show. Yessh. 
Terry Terrones is taking over. Thanks for playing.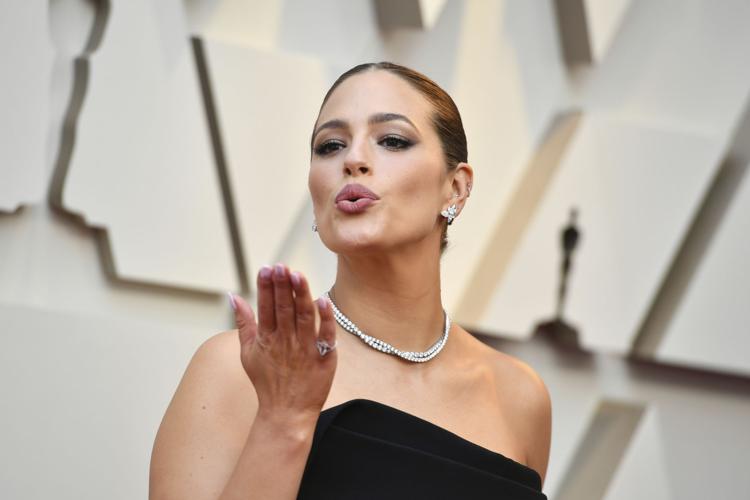 She is worth the wait, isn't she? The silhouette on this gown is breathtaking. But that necklace! That's the outfit. Everything else is just black canvas on which to display it.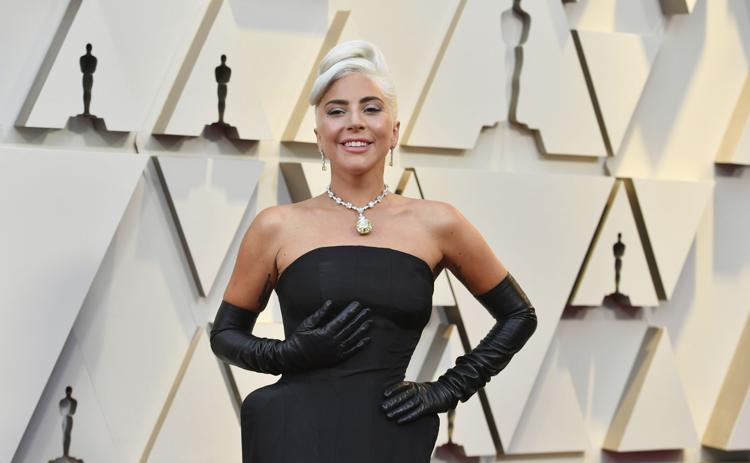 Lady Gaga has arrived. Waiting patiently/not patiently for photo.
It takes a very special kind of person to wear a bow that big. Laura Marano is killing it.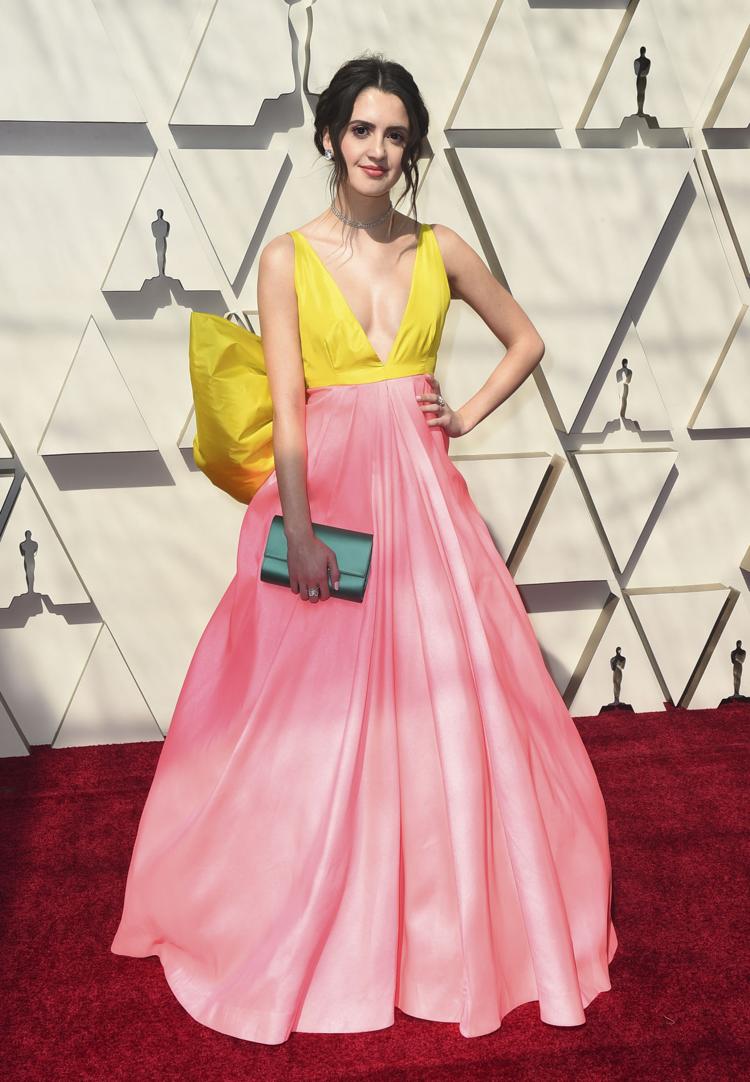 Oh, well. Maybe next year.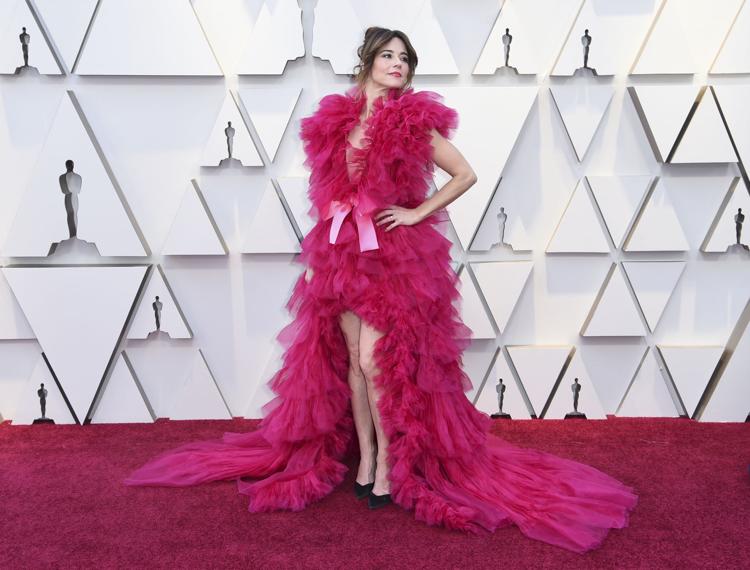 I see J-Lo finally repurposed that old disco ball.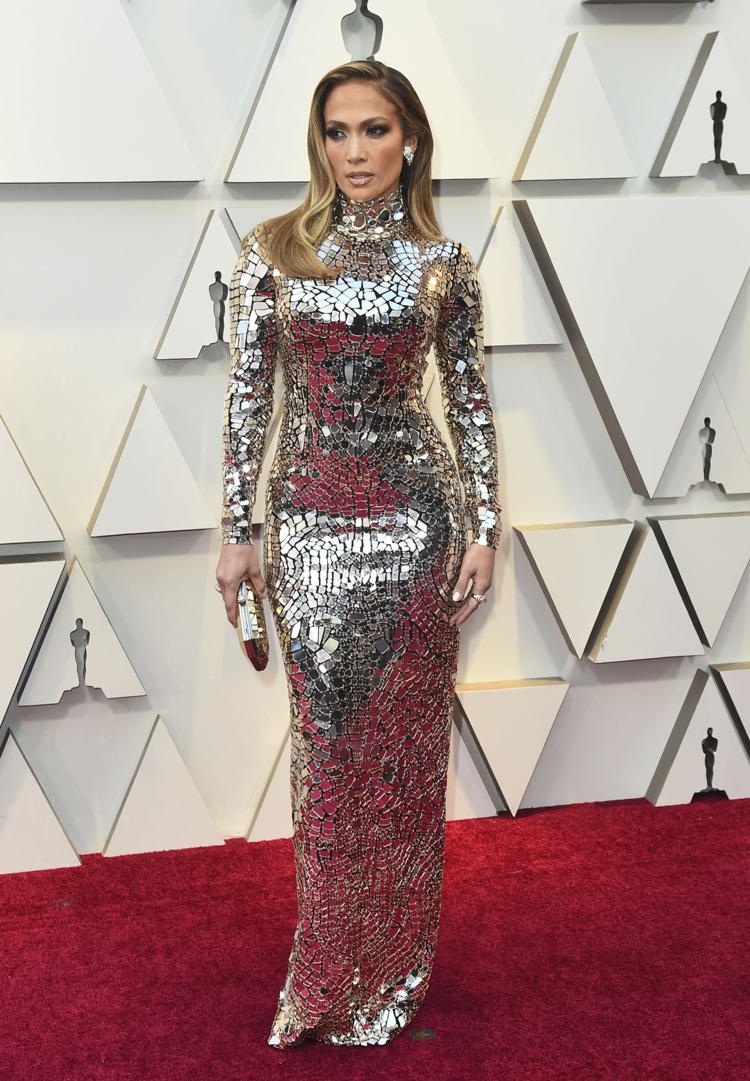 I wonder if you run you hand up the length of Emma Stone's dress, does it reveal a secret image or message?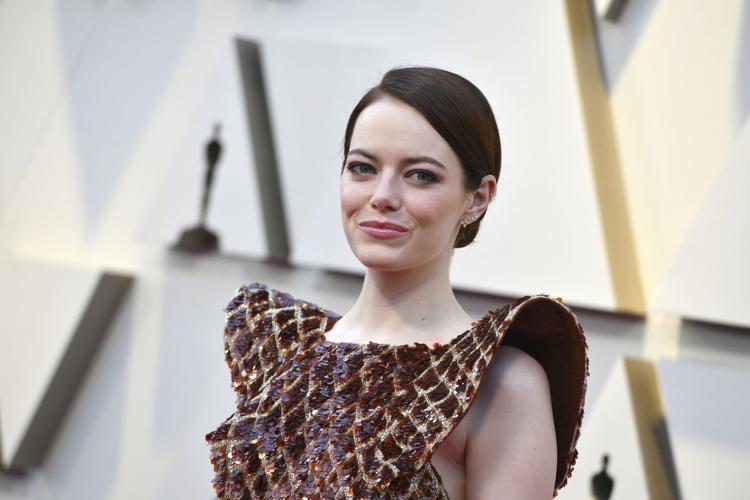 Jason Momoa. Because... Jason Momoa.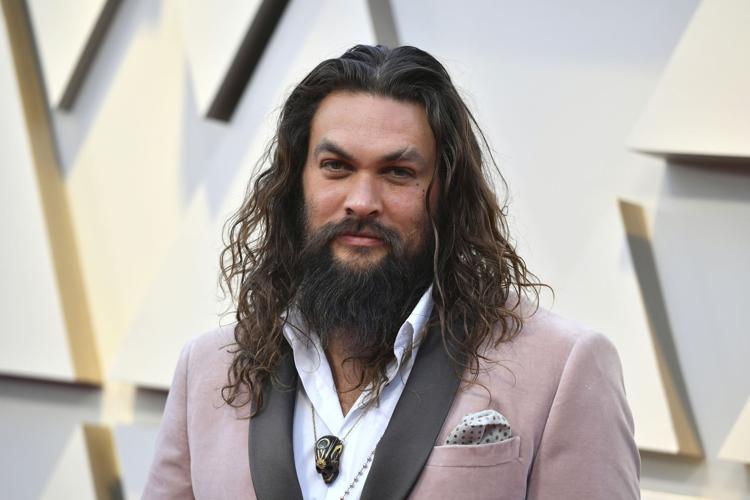 Has anyone seen Gaga?
I don't know about this dress. It's trying really hard to get me to love it. And I want to. I really do. Seems a little uptight, though. Maybe it could buy me a coffee and let me get to know it better.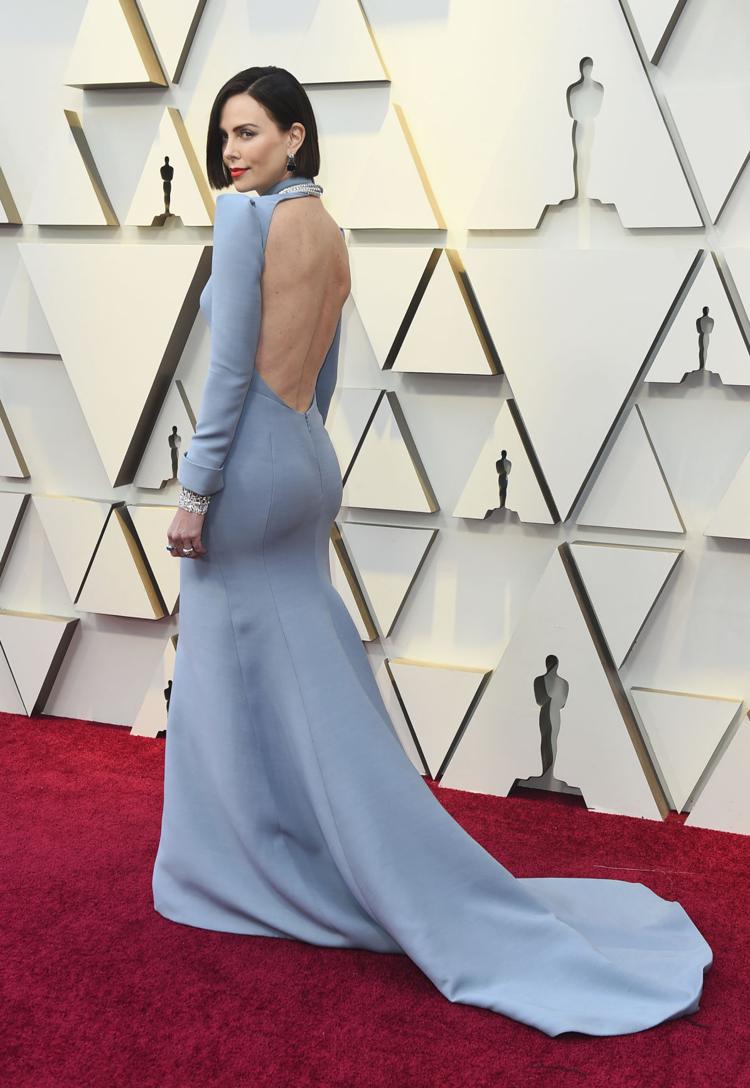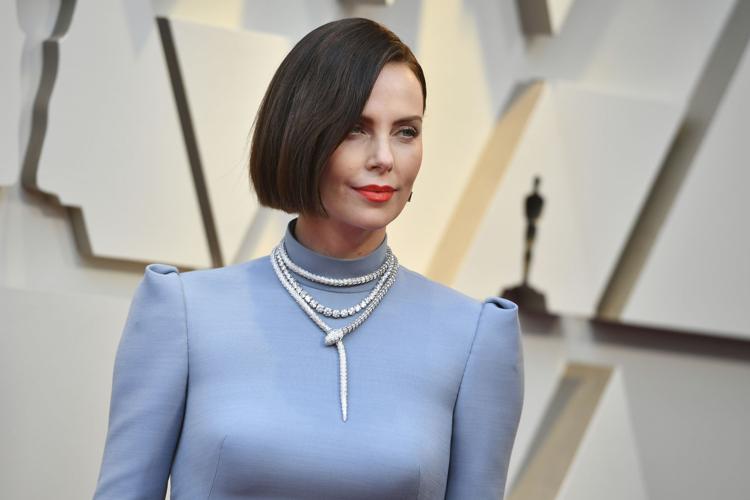 Oh, Glenn Close, what are you doing?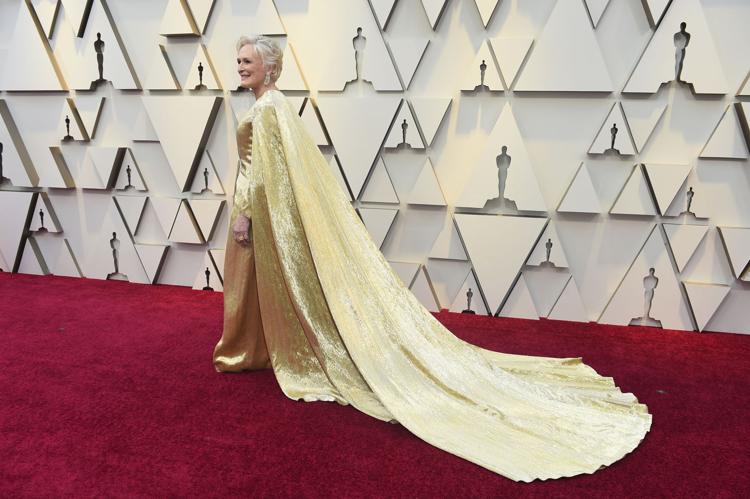 Not gonna lie, all the vivid color has me wanting to assign Care Bear names to each celeb as they make their way down the red carpet. Making my list now.
How to Oscar: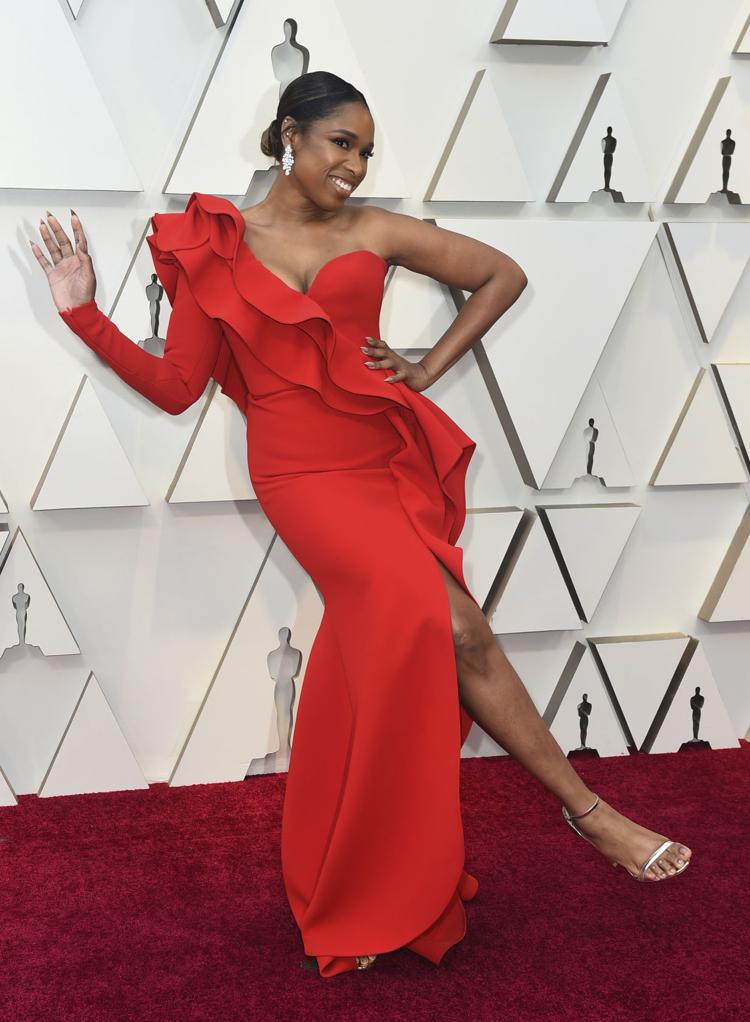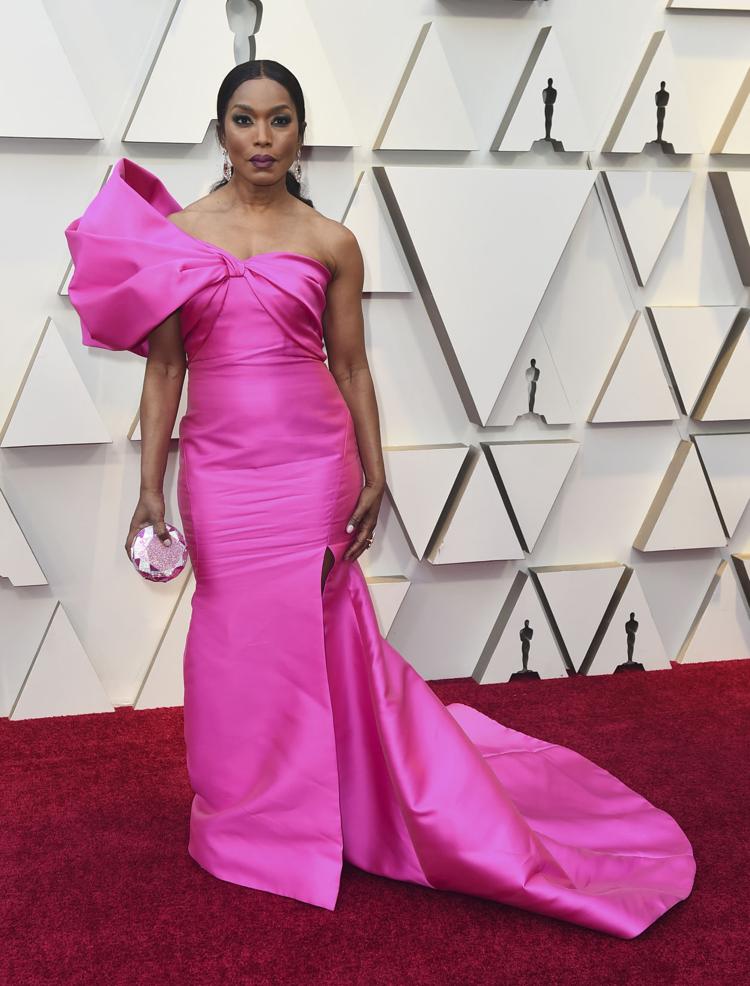 Also, where is Lady Gaga?
Two people can wear this amount of purple and get away with it, Barney and Spike Lee. Honestly, I looked him up and down to find anything to point out. Aside from the sloppy right shoelace? Perfection.
I wonder if this dress brings Marie Kondo as much joy as it's bringing me.
Where is Lady Gaga. That's who we're really waiting for. Am I right?
Right away I'm noticing a lot of bright color this year. Yellow and fuchsia, in particular.
Hi this is Nichole. It's past time to get started. But Billy Porter already won the red carpet so I got a little distracted.