Once a toymaker perhaps always a toymaker?
Because many of former toymaker and sculptor Sean O'Meallie's pieces still appear to be made for playtime — vibrant Starburst and pastel Necco Wafer-colored orbs, boomerangs and cubes, adorned with whirligigs and thingamajigs that scream to be picked up, stacked and played with. (But please refrain.)
Colorado Springs arts organizations report low attendance, membership numbers in wake of pandemic
The longtime Colorado Springs artist will exhibit more than 30 mostly wood works in a new show in the east and west galleries at Kreuser Gallery through October. In the south gallery will be "Reimagined," featuring new hyper- realistic works by Tanner Valant done mostly in colored pencils. Both shows are up through Oct. 28.
"All of this grows out of my years as a toy inventor dreaming up things that don't exist," O'Meallie said. "That was a field of play I got an awful lot of delight from. The toy business is also pragmatic — toys have to function in the marketplace. While I have places in my mind to go and explore and have freedom, I have to come back to making objects in a room that cast a shadow."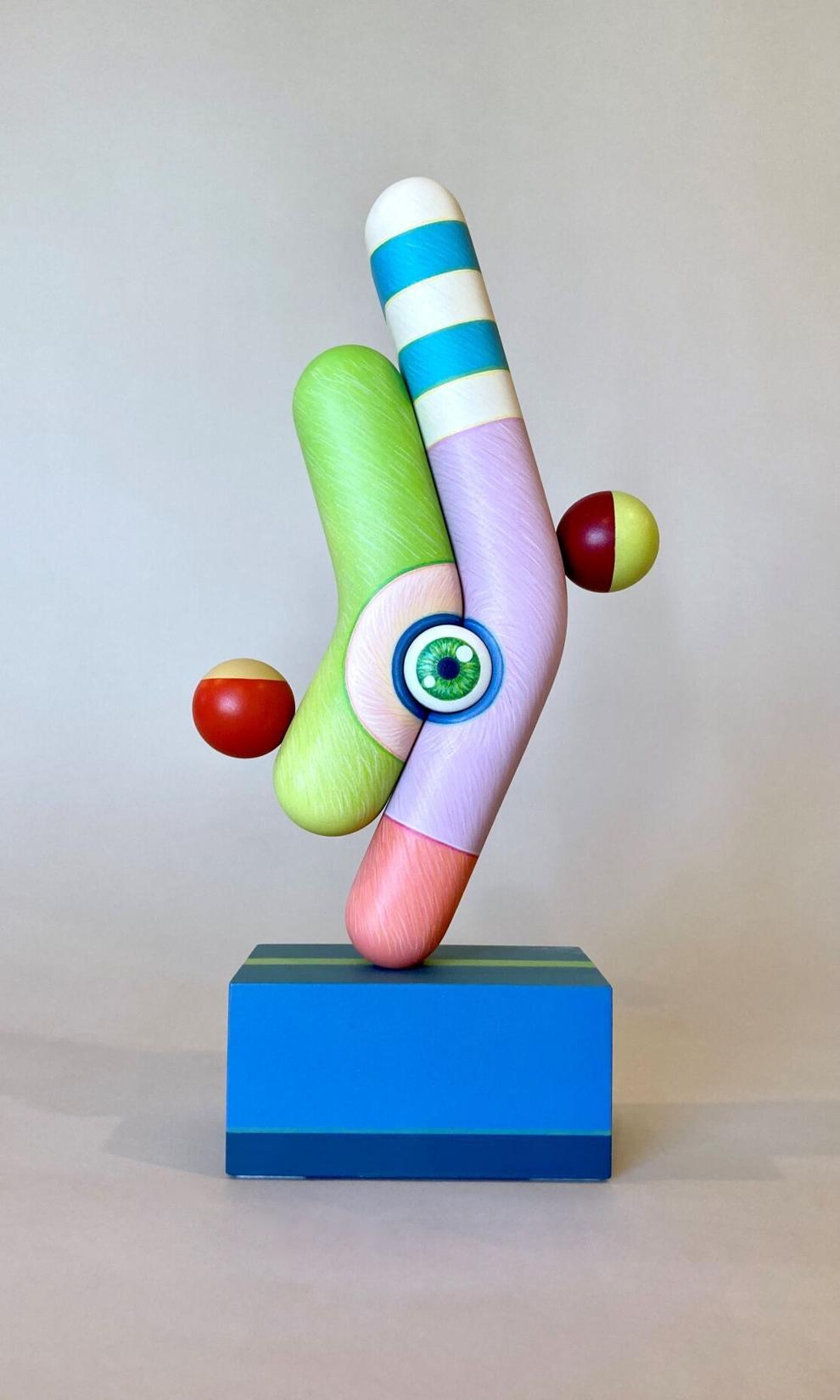 Amid his playful works in the new show exists one that might seem an anomaly — "Black Door," an 80-inch-by-32-inch door O'Meallie covered with a black and industrial-grade velveteen sprayed with Singularity Black, a carbon nanotube-based pigment that absorbs almost all reflected light. It's used to line the interiors of telescopes to reduce light noise. The door will be the largest piece in the show.
"It's so black, it's disorienting," said the self-taught woodworker. "It removes all sorts of spatial awareness you don't realize you're operating with until it's taken away. You'll start to lose your balance when you're up close looking at this thing."
But the black door doesn't exist solely for shock value amid his more whimsical pieces. It's a piece that causes your senses to drop away. You're not allowed to touch the door, but O'Meallie will provide a sample of fabric to touch.
Dining review: Lumen8's impressive views overshadow menu in Colorado Springs
"This black door casts a shadow and that's important to me," he said. "Even pure conception is compromised by having a physical experience. That's part of this whole thing I play with — the complications of existing, the foibles of thought and emotion, and the necessary parts of it, too. How could we possibly exist without the physical needs, the things that feed our senses?"
Of our five senses, O'Meallie believes touch is the most vital. He's a "touch monkey," he says, which partly explains his former life as a maker of toys.
"I touch objects. I use wood because it was a once living thing," he said. "It's familiar, touchable. Humans and trees go back a long time. And our evolution is intertwined with plant life. Touch is the most affirming thing we have. We have to have touch. I think of wood as the flesh of a living organism."
Contact the writer: 636-0270