THURSDAY
Young adults and teens know the books and stories of Matt de la Peña ("Flying Lessons and Other Stories"), a featured author in this year's All Pikes Peak Reads. Meet him and hear how he wasn't always an enthusiastic reader. Book signing and reception follow. Free, 6:30 p.m., Library 21c, 1175 Chapel Hills Drive, ppld.org
The touching end-of-life Goodbye Tour and Alzheimer's struggle of the music legend is the subject of the documentary "Glen Campbell: I'll Be Me," presented by the UCCS Aging Center at Ent Center for the Arts. 5:30 p.m. Free but tickets required. uccspresents.org or call 255-8002 or 255-3232. Refreshments provided by MacKenzie Place Senior Living.
THURSDAY-SUNDAY
Acrobatic and cirque performances over water during Water Circus Cirque Italia's "Aquatic Spectacular." Inside a giant blue and white tent outside the Citadel mall is a 35,000-gallon water stage for the 7:30 p.m. shows. Tickets on site or through CirqueItalia.com/tickets
FRIDAY
Science is fun, especially in this evening for adults at the Space Foundation Discovery Center. Science Riot crazies on stage, Mad Science demonstrations, cash bar and food truck, 6-10 p.m., $15, 4425 Arrowswest Drive, discoverspace.org
The exquisite voices of the Vienna Boys Choir will fill the air at Ent Center for the Arts, 5225 N. Nevada Ave., 7 p.m. Co-presented with the Colorado Springs Children's Chorale. Tickets, uccspresents.org. The Vienna Boys Choir also will perform Sunday in Boettcher Concert Hall in Denver.
Vienna Boys Choir set to bring 25 international singers to Colorado Springs
This concert will blow off the roof: March Fourth (called M4 by followers). Horns, drums, marching performers, pounding bass and high stepping by almost 30 performers. 7 p.m., Black Sheep, 2106 E. Platte Ave., $15, blacksheeprocks.com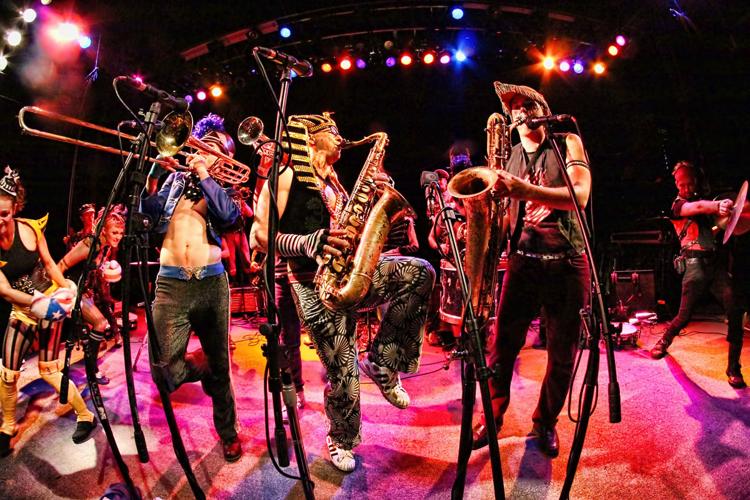 FRIDAY-SUNDAY
The world as it's seen by women filmmakers is on the screen all weekend at the 31st Annual Rocky Mountain Women's Film Festival presented by the Rocky Mountain Women's Film Institute. Screenings at Colorado College's Armstrong Hall, Cornerstone Arts Center and the Colorado Springs Fine Arts Center. Schedule and tickets: RMWFILMFEST.org
SATURDAY-SUNDAY
Denver's Veterans Day Parade, starting at 14th Street and Colfax Avenue and circling Civic Center , starts at 10 a.m. Saturday, followed Sunday by a 5K and 10K fun run for all ages through City Park, denverveteransday.com. Other celebrations: Castle Rock, dcvmf.org, Saturday; Western Slope Vietnam War Memorial, Fruita, field-of-dreams.org, Saturday; Veterans Overcoming Obstacles Veterans Day Ruck, Pueblo, Sunday, Facebook.
Tributes to veterans and the wars through history continue with the Colorado Springs Philharmonic's "With Honor - Composers Who Served." Works by Ives, Vaughan Williams, Kreisler, Barber and Ravel. 7:30 p.m. Saturday, 2:30 p.m. Sunday with free children's tickets available. Lectures one hour prior to concerts. csphilharmonic.org
SATURDAY
They're the beautiful Colorado state mammals, Rocky Mountain bighorn sheep, and they are celebrated in their own annual festival in Georgetown, 10 a.m. to 3 p.m., georgetown-colorado.org. Educational opportunities, nature games and festivities. And a bighorn sheep herd.
These bears aren't hibernating, they're out running about. A fun morning, the Bear Creek Nature Center Bear Run with costumed (it's required) human bruins in a 3K run and walk for all ages, 9 a.m. to noon, 245 Bear Creek Road. Pre-run bear activities, yoga and costume judging. Fundraiser for the center's programs, registration for those who already have bear suits and those who need them: communityservices.elpasoco.com/bear-creeks-4th-annual-bear-run
Yay beer, and lots of sampling thereof. It's the All Colorado Beer Festival with 75 brewers and 1,500 folks tasting the best, sessions 1-4:30 p.m. or 6:30-10 p.m. at Chapel Hills Mall Event Center, 1710 Briargate Blvd. An Empty Stocking Fund event. Designated driver tickets available. allcoloradobeerfestival.com
He's the man with the stories, and the photos, from the slaying of Lee Harvey Oswald and the fatal JFK visit to Dallas. Bob Jackson will be here to share in "Robert Jackson - From 'The Shot' to the Pulitzer, the Assassination of Lee Harvey Oswald." Program presented at Manitou Springs City Hall, 606 Manitou Ave., by The Gazette, where Jackson once was a photographer, and the Manitou Springs Heritage Center. He was on the staff of the Dallas Times-Herald when he took the memorable photo. Admission $20. 11 a.m. manitouspringsheritagecenter.org
A Deathride CD release concert and Zombie Fest sort of night at Sunshine Studios Live with He Kill 3, Seven Days Lost, Grindscape, 11th Hour and Bunny Gunz, 6 p.m., 3970 Clearview Frontage Road, $7-$25, sunshinestudioslive.com
SUNDAY
Commemorating the 100th anniversary of the armistice between Germany and the Allies in 1918, a special Stripes & Pipes Concert for Veterans Day with Fort Carson's 4th Infantry Band and Jim Calm on the Joel Kremer Theatre Pipe Organ, Colorado's largest. Marches, patriotic music and favorite selections. Free. Because of street construction, access to parking at the Immanuel Lutheran Church Organ Gym is from Prospect Street, through the alley behind 828 E. Pikes Peak Ave.
The New Horizons Band of Colorado Springs pays tribute with "A Salute to Veterans" fall concert, 4 p.m. at the Ent Center for the Performing Arts, 5225 N. Nevada Ave. Tickets $7 at the box office or online tickets.uccspresents.org
The fall concert by the auditioned community choir Abendmusik, 3 p.m. Broadmoor Community Church, 315 Lake Ave. They will cover musical history, "New is Old/Old is New: Seven Centuries of Choral Music." Free. abendmusikchorus.org
Compiled by Linda Navarro, linda.navarro@gazette.com