Editor's note: With a new season of "Top Chef" starting on April 1, this time taking place in Portland, Oregon, it seems like a good time to revisit an interview with head judge Tom Colicchio while production was under way for "Top Chef: Colorado." This interview with Tom took place in May 2017 and ran Dec. 6, 2017 as the Colorado season was about to premiere. 
The site of the main kitchen for the latest season of "Top Chef," filmed in Colorado this year, looks like just another building. The nondescript warehouse in Thornton exudes no clue that one of cable TV's most popular culinary reality shows is being filmed there. Yet this is where a challenge has just taken place and another contestant for the newest season of "Top Chef" has been eliminated. It's also where head judge Tom Colicchio was interviewed.
Although Colorado marks the 15th season of the series, Colicchio, a James Beard Award-winning chef, still was getting acclimated to what he calls "summer camp" as the series was filming its second episode. He was interviewed after a Sudden Death Quick Fire and the next challenge issued to the remaining chefs, who had left the building. The chat has been edited for brevity.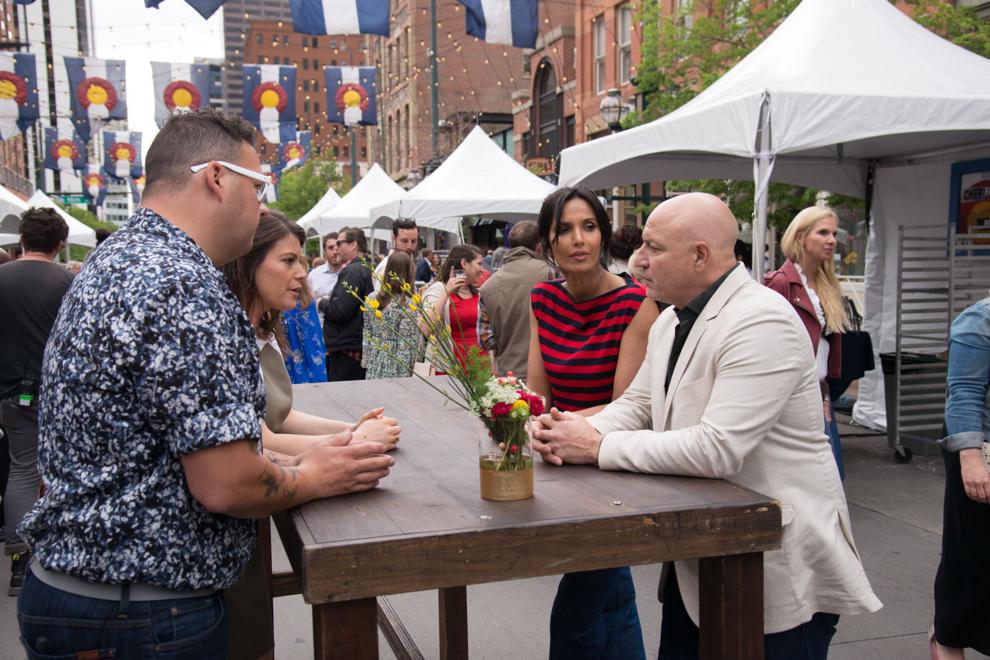 Terry Terrones question: Have you been to Denver before? If so, what do you think of the food scene?
Tom Colicchio answer: I haven't been here in about 18 years. It's changed a lot. I've only been here a few days, and I've primarily been on set. So I can't really comment on the food scene. Besides the hotel, I've only been out to eat once.
Q: What do you make of this group of contestants?
A: This is an interesting group. They've bonded very quickly. You can see that in the way they talk to each other. I did a walk-through yesterday, and you can see them all working together really well. I think that makes for a better season. I don't think you need a villain; I think that's old reality TV. People want to see them working together. That may be a commentary on how things are right now. I think people want to see other people come together and get things done.
Q: How do you go about judging? Keegan Gerhard said he begins by looking at a chef's station. Do you do that too?
A: For every challenge, I'm looking at how something is cooked and how it is seasoned. Did they adhere to the rules? And then it comes down to personal opinion. I don't come in with a preconceived notion. I find you get in trouble if you do that.
Cooking is really basic when you come right down to it. Obviously chefs who have more creativity may have an edge, but that's about the third thing I'm looking at. I'm still looking at the basics - seasoning and cooking technique. You can have the most creative mind, but if you can't cook a piece of fish, what's the point? And if everything's completely under-seasoned, you notice it right away. Especially because you're eating 15 of the same dish. It's just apparent. So I cover the basics first and go from there.
Q: During today's challenge, you wanted to see what the chefs were doing. You wanted to see technique.
A: Oh yeah, I wanted to see technique. Although I wouldn't judge on that, it's interesting to see how people go about doing something. Two videos out there show how to do the perfect French omelette. One of them is Andre Soltner, who's been a great chef for many years, and the other is Jacques Pepin. They both do it slightly differently, but it comes out the same way. So I just like to see. Also, we had 15 minutes to kill.
Q: How do you view your role as a judge differently than Padma, Graham or Gail? You all seem to have a different relationship with the contestants.
A: We don't have relationships with the contestants. We're not allowed to talk to them off camera. They can't even say hi to us if we're not on camera, and someone's always with them to make sure that happens. That's been the case from season one on. All that stuff you guys see behind the scenes? We don't see that. I have no idea what's going on right now when they're shopping. I have no idea what's going on when they are at home. We don't get that information, and we don't want it.
Q: Do you watch the show afterwards to see what happens?
A: Sometimes, if I'm not working. But I work nights. If I'm watching it in the moment, I'll live tweet it. But otherwise, no. And this is what most people don't understand, people think we judge based on personality, but I don't know their personality.
Q: How much free time do you have during a season?
A: I don't usually do the Quick Fires, so I'm typically one day on, two days off. I spend most of my time working. I still having meetings that I do over the phone. I'm dying to get out and fish, but every time I call the guides, they're booked. So I have my equipment shipped from home and go fishing. A bunch of the guys play music. I play guitar. So we get together at night.
For us, it's like summer camp. Most of the people on production, we know them all, we've known them for years. We get together for five to six weeks every year, and then we don't see each other. It's a lot of fun catching up and a lot of late nights.
Q: If the best part about being on "Top Chef" is the summer camp vibe, what's the worst part?
A: The worst part, I'll be honest, is that my time is not my time. When I'm home, I make my schedule, and I come and go when I please. Here, there are times you gotta wake up and you have to be on set at a certain time and you have to be on and you have to be ready. That's the hardest part for me. It's easier now that I've figured out when to come down to the set so I'm not sitting around and waiting, but that's about it. It's fun, it's once a year, it's only five weeks and I still enjoy it.
Q: Do you go home at all?
A: I do, I'm going home tomorrow night. (A Bravo spokesman mentioned that Padma doesn't go home, she gets the fewest days off. Of the four judges, she's the one on camera most of the time. Padma's daughter even has her own mini-trailer.)
Q: You've had a lot of meals on "Top Chef." Do you have a dish that you remember as your favorite?
A: One of my favorite dishes was by Paul Qui, who won the Texas season. He did a dish that was very simple - root vegetables and dashi. It was so flavorful and so simple. That's one of my favorite dishes and one that I always think of. Paul was so far ahead of everyone else that season.
Q: Who's your favorite "Top Chef" winner?
A: I try not to play favorites. I think the most talented consistently through every episode was probably Paul Qui. Our best final three was probably "Top Chef Las Vegas" with the Voltaggio brothers and Kevin Gillespie. But if you look at what the chefs have done, and this is what I'm most proud of, the chefs that have been on our show have gone on to great success.
Q: I've talked with Jeff Probst a couple of times and he's mentioned to me that he'd be terrible at "Survivor." How do you think you'd do on a season of "Top Chef Masters?"
A: I'll answer it differently (starts to laugh). If I was 26 or 27, I'd crush this show.
Gazette media columnist Terry Terrones is a member of the Television Critics Association and the Critics Choice Association. You can follow him on Twitter at @terryterrones.