Ruffrano's Hell's Kitchen Pizza, popular for its New York-style, thin-crust slices and pies since opening eight years ago in Manitou Springs, is adding a fourth location.
Hell's Kitchen Pizza will open by year's end in a remodeled, standalone building at 385 Main St. in unincorporated Security, just south of Colorado Springs, said owner Nelson Rufran. The 2,350-square-foot building has been vacant for a number of years after having been home to the iconic, 1950s-era Kwik Inn diner.
"Everybody loves Hell's Kitchen Pizza and there was a building in Security that I used to see all the time and I thought that would be a great location," Rufran said.
A Colorado native, Rufran launched Hell's Kitchen Pizza after being inspired by a visit to a similarly named New York City pizzeria. To distinguish his restaurant from the one in New York, he named it Ruffrano's Hell's Kitchen Pizza — using his Italian family's original last name.
Colorado Springs gets three restaurants under one roof
His first Hell's Kitchen Pizza opened in 2010 at 9 Ruxton Ave. in Manitou Springs. Rufran opened a second location in 2015 at 1670 E. Cheyenne Mountain Blvd. on Colorado Springs' south side and a third last year at 1753 S. Eighth St. on the west side.
The Security restaurant will be the largest of the four Hell's Kitchen Pizzas and have seating for about 70 people, Rufran said. It also will feature a drive-thru.
The menu will have a few additions, he said. Along with pizza, calzones, salads, sides and drinks, Rufran plans to add Italian coffee, gelato and soft-serve and hard-serve ice cream.
"The Kwik Inn used to serve ice cream and so we're going to try and bring some of that nostalgia back with some shakes and malts and stuff like that," Rufran said.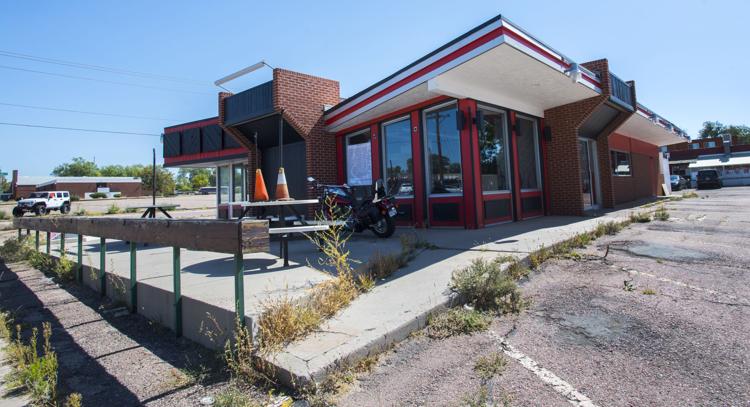 Rufran employs about 50 people combined at this three locations and plans to add 20 to 30 with his Security restaurant.
Rufran has eyed the Security location for several years and agreed to buy the property in 2015. But the past few years have been, well, hell for him as he eyed his newest restaurant.
Skirted Heifer burgers going to a 2nd location in Colorado Springs
He said he's been in two auto accidents since 2016, suffering ruptured disks in his neck and back, a dislocated shoulder and torn knee ligaments, among other injuries.
What's more, his Manitou Springs restaurant has taken a financial beating this year, Rufran said.
The Pikes Peak Cog Railway, which operates from a Manitou Springs depot, has remained closed this year as its owner, Broadmoor hotel parent Oklahoma Publishing Co., determines whether to rebuild and/or repair the 126-year-old tourist attraction.
The Cog's closing has meant thousands of fewer customers for his Hell's Kitchen Pizza in Manitou, he said.
"That was one of my bread-and-butters in the summertime," Rufran said. "This summer has just been tragic...About 2,300 people a day would drive by my restaurant. Once that closed, I lost all all that business."
Major road construction leading into Manitou, summer hailstorms and a sinkhole that developed near the restaurant also have hurt sales this year at the location, he said.
"With my car accidents and then all these things happening in Manitou, it's been rough," Rufran said.