Andres Velez has created a festive, inviting and playful patio in front of his Piglatin Cocina, 2825 Dublin Blvd. It added about 40 seats — plus four rope swings — where you can enjoy his eclectic twists on Latin fusion street food.
A couple of blazing firepits and strings of lights overhead beckon diners to stop in. Colorful murals add to the festive party atmosphere. Hours are 11 a.m. to 11 p.m. Sundays through Thursdays, 11 a.m. to midnight Fridays and Saturdays. Details: 375-0939, piglatincocina.com and facebook.com/PigLatinTruck.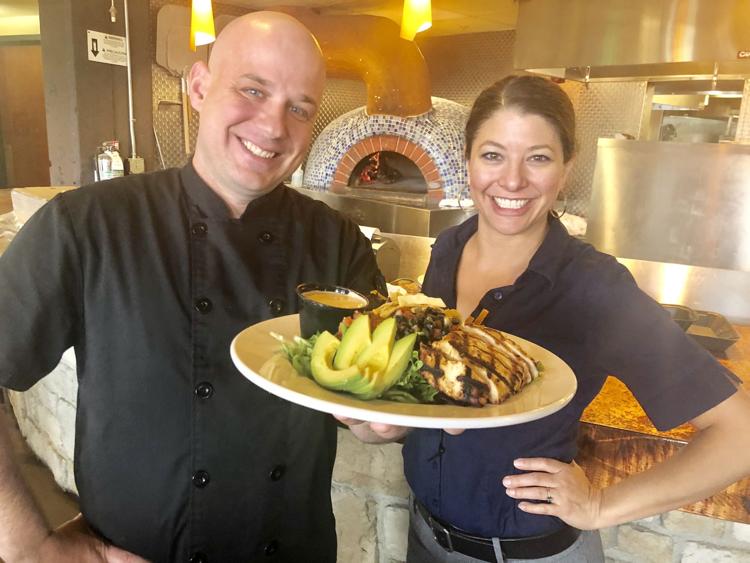 Swing doors
Joey LeBlanc has moved on from being executive chef at The Antlers to the same position at Colorado Mountain Brewery at The Roundhouse, 600 S. 21st St. New menu items will be arriving shortly, with an upgrade to the fish and chips and his twist on the buffalo chicken sandwich. He's got his eye on vastly improving the pizza options from the impressive wood-burning pizza oven.
"I'm not satisfied with the pizza dough recipe," he said. "I have someone I'm hoping will be joining the team soon who has a great dough recipe. And there are so many more dishes that can be prepared in the oven, like pot pies."
The Southwestern salad already has gotten a refresh with LeBlanc's black bean and corn salsa. Hours are 11 a.m. to 10 p.m. Sundays through Thursdays, 11 a.m. to 11 p.m. Fridays and Saturdays. Details: 466-8240, cmbrew.com.
Colorado Springs Fine Arts Center has new executive chef at the Taste restaurant
Great bowls of fire
The Colorado Springs Firefighter Chili Cook-Off takes place during the Pikes Peak Fan Fest, kicking off the Pikes Peak International Hill Climb, from 5 to 9:30 p.m. Friday at Pikes Peak Avenue and Tejon Street. Entry is free. You can buy a $1 cup or $5 bowl of chili made by firefighters. Proceeds go to the Muscular Dystrophy Association.
Vive la France
Patrick and Krystyna Garnier, owners of La Baguette French Bistro, 4440 N. Chestnut St., invite you to celebrate Bastille Day with them July 14. For $38.50, you can get in the spirit with a Bastille Day Champagne brunch from 10 a.m. to 3 p.m. Or, for $48, enjoy one of Garnier's special dinner menus from 4 to 8 p.m. Details: 599-0686, labaguettefrenchbistro.com.
Summer water
The Wine Seller will have A Summer Rose Social at The Margarita at PineCreek, 7350 Pine Creek Road, from 3 to 6 p.m. July 7. For $45, you will sample rose (so light, refreshing and easy to drink that it's known as summer water) along with light hors d'oeuvres. Part of the proceeds will support the mission of the Zonta Club of the Pikes Peak Area. Visit thewineseller.net or call 488-3019 for tickets.
- Click here for more local dining and drink news.
Calling all pie bakers
A good old-fashioned Ice Cream Social & Pie Baking Contest will be held at the Bud Ford Pavilion at Soda Springs Park in Manitou Springs at 4 p.m. Monday. Competitors must bake two identical pies and label with the pie's name on top and the competitor's name on the bottom of the pie plate. Bring both pies at 4 to 4:30 p.m. Judging begins at 5 p.m. First-, second- and third-place awards for the kid and adult divisions. The rules say: No store-bought pies, no dairy or cream pies, pie diameter must be greater than 8 inches, judges' decisions are final, and there is no entry fee. Slices of pie will be sold after awards are given. Visit manitousprings.org.