If you're looking for a unique holiday gift for the gardening lover on your list, we found several fun options at Pikes Peak region retailers.
From colorful pots and hand-painted tiles to garden gift baskets, decorations and wind-catchers, whimsical gifts galore can be found at shops in Colorado Springs.
Holiday gardens
Need a "grab-and-go" gift on your way to a holiday gathering? Skyway Creations Flower Shop, 1407 S. 8th St., has just the thing. The store has a vast selection of pre-made basketed holiday and European gardens featuring up to five living plants from $24.98 for walk-in customers or $34.98 for delivery. Medium baskets are $49.98 and up, and large ones start at $74.98.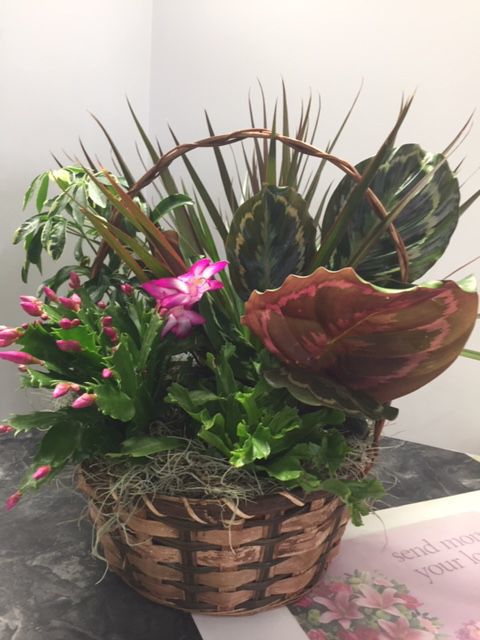 "We sell a lot of these, as well as more contemporary succulent gardens, around the holidays," said co-owner Lori Goede.
Holiday and European gardens, which feature plants kept in their individual containers, differ from dish gardens, which are directly planted. The plants incorporated into holiday gardens are a lasting gift that can be replanted and go on living for years and years.
"Skyway Creations brings in smaller containers, unlike many other florists, so we can put a blooming plant in the holiday and European gardens. In varieties called sympathy gardens, we like to include a peace lily. But for the holiday gardens, we can add little trinkets, figures and bows to decorate. And we use tall, medium and small plants for depth, color and variety. They just bring happiness to their new homes," said Claire Smagala, accountant. "They make nice gifts, so we like to have them ready to go."
The store soon will get 4- and 6-inch poinsettias and Norfolk pines, festive additions to holiday baskets.
"We have nice baskets to put those in with some trim, and we dress it to the nines. We sell a lot of these," Smagala said. "And this year, we ran the gamut on the colors of poinsettia. They have great names, like Jingle Bells, Green Envy, Marble Star, Picasso — a hot pink, Monet ice punch — another variety of pink, tapestry, red glitter and red-and-white. It's a nice variety of colors — not the inexpensive reds you'll find at (big box stores). We have unique colors and nice gardens. There we can compete with bigger retailers."
Any basket can be custom-made. "Skyway can also do a more exquisite garden with orchids. These can get into the $100 to $200 range. Our designers find plants that look fabulous together," Smagala said.
Gardening gift baskets
Another thoughtful gift for a gardener is a tote, bucket or basket filled with hand tools, decorations and brightly colored garden implements.
"We put together gifts that may include a colorful watering can, gardening gloves and hand tools. We also carry watering wands and sprinklers in bright colors. They remind people that you need to water in the winter, too," said Susan Spencer, co-owner at Spencer's Produce, Lawn & Garden, 1430 S. Tejon St.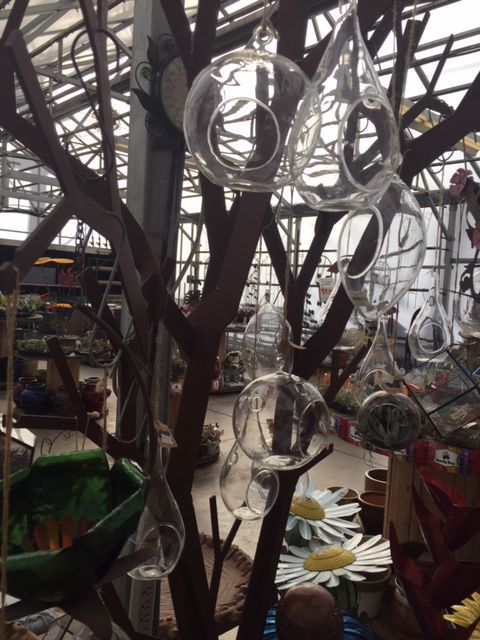 Other fun basket additions at Spencer's are hanging glass terrariums (starting at $10) that can be filled with fairy garden plants, air plants, accessories and figurines.
Julie McIntyre, owner of Summerland Gardens, 124 E. Cheyenne Road, suggests adding an inch-tall baby poinsettia or small rosemary or lavender tree to a gardening gift basket.
"The tree-shaped herbs are kind of fun. The rosemary trees and cones are great for someone who likes to cook," she said.
The store also carries decorative ceramic flowers in many colors, $24.95-$62.99, that would brighten any garden-themed gift assortment.
Phelan Gardens, 4955 Austin Bluffs Parkway, carries decorative tiles painted with butterflies, cats, daisies, pansies, orchids and other cheery images that would be a perfect gift basket addition. Small tiles start at $12.95, and 8-inch square tiles are $24.99.
Planters
When giving a living plant as a gift, the container can make all the difference. Little Colorado & Camino Real, 2703 W. Colorado Ave., has a huge selection of bright planters and ceramic pots imported from Mexico. These are painted with all the colors of the rainbow and start at $12.50 for a small planter. Some are shaped like a cat, turtle, rabbit, pig, frog or fish. Window planters can be had for $34.95 and up.
Spinners
If you're thinking about a gardening gift on a larger scale, Don's Garden Shop & Landscape Materials, 6001 E. Platte Ave., has a shed full of garden spinners in the $150 range that make a colorful and lasting addition to the outdoor garden. Abstract, windmill and flower-shaped varieties about 5 feet tall are powder-coated in vivid paint that can withstand the weather.
Gardening stakes topped with a tractor ($52) or motorcycle ($53) are also available.
Contact the writer, 476-1602.