The Colorado Department of Public Health & Environment has issued new guidelines for personal and outdoor recreation that includes gyms, parks, playgrounds, pools, rafting and fishing.
Read more on the "Safer at Home and in the Vast, Great Outdoors" here.
For more information on retail stores open go here.
Our list parks, trails, visitor centers and tourist destinations that have either reopened or remain closed covers Colorado Springs, the Pikes Peak region and elsewhere in Colorado.
---
Parks, trails, visitor centers and other tourist destinations
Air Force Academy: The North Gate will be closed to all traffic for an indefinite period of time.
Bear Creek Nature and Fountain Creek Nature centers: Open to the public.
Black Canyon of the Gunnison National Park and Curecanti National Recreation Area: Black Canyon and Curecanti will offer no services outside those that support visitor or resource protection.
The Broadmoor hotel: Open to our overnight and local guests. Select restaurants, activities and offerings will reopen accordingly, in phases, as business levels and State and Federal requirements allow.
The Broadmoor's Seven Falls: Closed until further notice.
Cave of the Winds Mountain Park: Closed until further notice.
Cheyenne Mountain Resort: 3225 Broadmoor Valley Road, 538-4000. Call or go online for reservations.
Cheyenne Mountain Zoo: 4250 Cheyenne Mountain Zoo Road, 633-9925. Open through July 4 for members and general public. Admission is by limited capacity timed e-ticket admission only. Purchase of e-tickets online is required.
Colorado Parks and Wildlife Campgrounds: Colorado Parks and Wildlife campgrounds are open to camping at most state parks. Playgrounds, picnic areas and camping facilities (including yurts and cabins) at Colorado's state parks will likely remain unavailable. Go to cpwshop.com to make your camping reservation and check for the latest updates and campground openings on CPW's COVID-19 information page.
Colorado Parks and Wildlife offices and visitor centers: May will reopen on June 5. Visitors should be aware that standard office hours may have changed for the location you're planning to visit, so you should call ahead of arriving or see individual park pages to ensure your preferred location is open.
Colorado Springs Labor Day Life Off Citywide Celebration: Featuring 35-40 balloons to be launched from about 15 sites across the city, allow residents to watch from their homes, Sept. 4-5 "pop up" balloon-glows at night, Set. 5-6 balloon launches.
Colorado Springs Pioneers Museum: 215 S. Tejon St., 385-5990. Opens July 9. Go online for guidelines and hours. Visitors are encouraged to reserve free tickets online.
Colorado Springs Fine Arts Center at Colorado College: 30 W. Dale St., 634-5581, closed until further notice.
Colorado Springs Pioneers Museum: 215 S. Tejon St., closed until further notice. Offering online programs. Staff can be contacted by phone at 385-5990 or by email for research assistance.
Colorado State Parks: Free admission for active military and veterans, Aug. 1-31, open to residents and nonresidents. Go online for information.
Colorado Wolf and Wildlife Center: 4729 Twin Rocks Road, Divide, 687-9742, open with some restrictions.
Copper Mountain: Opens July 4.
Cripple Creek casinos: Open with very strict guidelines. More info here.
Cumbres & Toltec Scenic Railroad: Antonito, open; 888-286-2737.
Denver Art Museum: Open, 720-865-5000.
Denver Botanic Gardens Chatfield Farms: 8500 W. Dear Creek Canyon Road, Littleton, opens June 11.
Denver Botanic Gardens York Street: Open.
Denver Museum of Miniatures, Dolls and Toys: 830 Kipling St., Lakewood. Opening Aug. 1.
Denver Zoo: Open. All tickets must be purchased online.
Florissant Fossil Beds National Monument: Main entrance road and parking lot, picnic area, pet exercise area, limited bathroom facilities and easy access to the main outdoor exhibit area and self-guided trails are open. All 14 miles of the Monument's trails are open and can still be accessed at the Hornbek Homestead parking lot and Barksdale picnic area. The visitor center will remain closed.
Flying W Ranch: 3330 Chuckwagon Road, 598-4000, reopening July 10.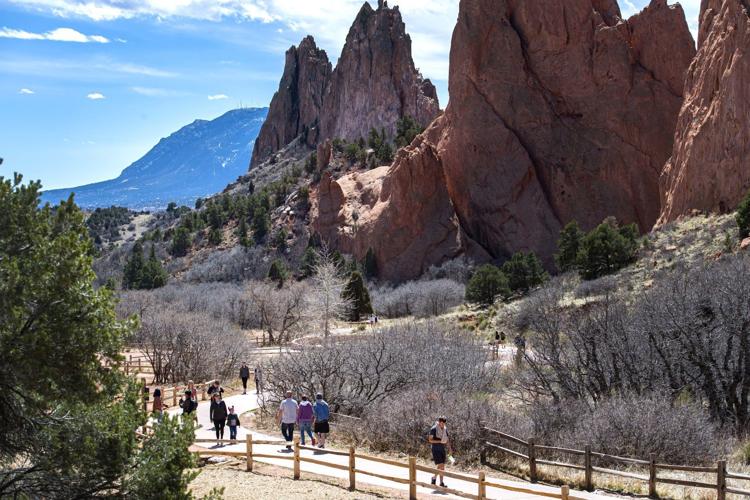 Garden of the Gods Visitor and Nature Center: It is currently open Mondays-Thursdays, 9 a.m.-5 p.m. Fridays-Sundays. Please check back for the latest hours and updates. Also, offering online video series of literacy and nature programs at gardenofgods.com/things-to-do/things-1/online-programs.
Ghost Town Museum: 400 S. 21st St., 634-0696, open.
Glen Eyrie Castle: Closed until further notice.
Great Sand Dunes: Phased reopening beginning June 3. Go online for information.
Great Wolf Lodge: 9494 Federal Drive, 844-553-9653, open.
Manitou Cliff Dwellings: 10 Cliff Dwellings Road, Manitou Springs, 685-5242, open.
Manitou Incline: Closed until further notice. Read more here.
McAllister House Museum: 423 N. Cascade Ave., 635-7925, open.
Michael Garman Museum & Gallery: 2418 W. Colorado Ave., 471-9391, open.
The Mining Exchange hotel: 8 S. Nevada Ave., 323-2000.
Miramont Castle Museum: 9 Capitol Hill Ave., Manitou Springs, 685-1011, open.
Molly Brown House Museum: Denver, open. Purchase tickets online.
Money Museum: 818 N. Cascade Ave., 800-367-9723, closed until further notice. Virtual reality tour available.
MCA Denver: 1485 Delgany St., Denver, 303-298-7554. Opens July 1; tickets required.
National Museum of World War II Aviation: Closed until further notice.
National Park Service: The lobby is temporarily closed to all non-employees. Business hours remain 8:30 a.m. to 5 p.m. Mondays through Fridays for phone or email.
North Pole: Temporarily closed.
The Old Homestead Museum: 353 Myers Ave., Cripple Creek, 689-9090, opening noon-4 p.m. July 4.
Pikes Peak - America's Mountain: Through Sept. 30, gates open at 7:30 a.m. and last entry is at 6 p.m. Guests are asked to leave the summit by 7 p.m. and exit the downhill gate by 8 p.m. There is mandatory shuttle service for guests seeking to reach the summit. As has been the case during the last two summer seasons, parking at the summit is extremely limited due to construction of the Pikes Peak Summit Complex. Only vehicles with a disability placard or license plate and vehicles with young children in car seats will be allowed to park on the summit. All other guests will be required to take a shuttle from the 16-mile parking area or the 13-mile parking lot. There is no additional charge for the shuttle. The Summit House, Glen Cove and all picnic areas are closed through June 1. The South Slope Recreation Area is set to open June 4, weather permitting. Use of this area is by permit only. Registration opens May 28. It is open Thursdays, Fridays and Saturdays from 7:30 a.m.-3 p.m. Restrooms are available at the Gateway, Crystal Reservoir and Glen Cove. No services, including restrooms, will be available on the summit. Guests are asked to follow social distancing guidelines and wear masks in populated areas such as parking lots and restrooms. If guests do not feel well, they're asked to visit another time. Guests should call 719-385-7325 for the latest road conditions and as always, access is weather permitting and no refunds are available.
Pineries Open Space: 13201 Volmer Road, open.
Powderhorn Mountain Resort: Open for summer.
ProRodeo Hall of Fame: 101 Pro Rodeo Drive, 528-4764, open.
Rainbow Falls Historic Site: To combat the COVID-19 virus and be respectful for the health and safety of our citizens and staff, if the parking lots are full please consider coming back at a different time.
Red Rock Canyon Open Space: Open but visitors are asked to practice social distancing.
Rock Ledge Ranch Historic Site: 3105 Gateway Road, 578-6777, open.
Rocky Mountain National Park: Rocky Mountain National Park plans to increase recreational access and services on May 27. Trail Ridge Road is open, but online reservations required. Call 970-586-1206 or go online for information.
Royal Gorge Bridge: Fully open 10 a.m.-7 p.m. daily.
Sangre de Cristo Arts Center: Pueblo, opens the public starting July 3.
Santa's Workshop: North Pole, Colorado: Closed until further notice.
Space Foundation Discovery Center: 4425 Arrowswest Drive, 576-8000, will open June 30-July 3 for Space Foundation Discovery Passport members, Colorado Springs healthcare workers and first responders and their families. Open to the general public on July 7.
Tabor Opera House: Leadville. Opens for tours July 17. Reservations required.
U.S. Olympic and Paralympic Museum: 200 S. Sierra Madre St., $14.95-$24.95. Tickets go on sale July 11.
Ute Pass Historical Society & Pikes Peak Museum: 231 E. Henrietta Ave., Woodland Park, 686-7512, open
Water Canyon: Public access on weekdays.
Water World: Federal Heights, closed for 2020.
Western Museum of Mining & Industry: 225 North Gate Blvd., 488-0880. June tours: 9 a.m.-4 p.m. Mondays, Wednesdays, Fridays and Saturdays. Advance ticket purchase encouraged.
Winter Park Resort: Open for summer.
World Figure Skating Museum & Hall of Fame: 20 1st St., 635-5200, closed until further notice.