With a speech tailored to his Colorado Springs crowd, Democratic Gov. Jared Polis on Friday earned a standing ovation after his annual speech to the city's Chamber of Commerce.
Polis' remarks were a trimmed-down version of the State of the State speech he delivered Jan. 9 to the General Assembly. He also voiced strong support for Colorado Springs becoming the permanent home of U.S. Space Command and pledged highway money to help in the effort.
"I am impressed with Gov. Polis and his willingness to support defense, especially Space Command," said Kathy Boe, chairwoman of the chamber's board.
Colorado Senate on verge of advancing death penalty repeal
The governor did some careful editing of his Jan. 9 script for a county known as a Republican stronghold. He dumped references to contentious immigration policies that put him at odds with President Donald Trump and shied away from climate change and his push to move the state toward more reliance on windmills and solar power.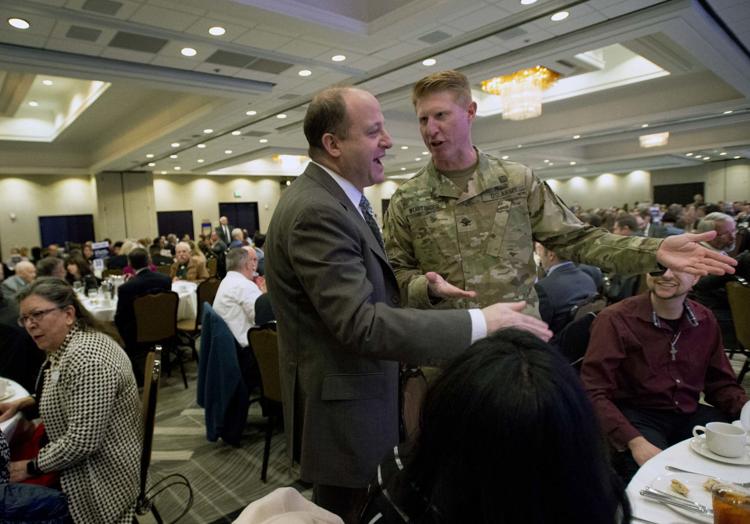 Also dropped from the speech was his push to mandate family leave for workers, a touchy point in a room full of business leaders in suits.
Instead, Polis spoke on issues that have bipartisan appeal.
He thumped a drive to cut the state's income tax by closing loopholes and cheered legislative approval last year of his plan to offer full-day kindergarten statewide.
"Last legislative session, 95 percent of the bills I signed had Republican votes," he said.
Rep. Dave Williams doesn't want vaccination bill in House 'kill' committee
This year, Polis wants to keep working to fix the state's roads after voters in November dumped a ballot measure to increase transportation funding. The measure would have allowed the state to keep money that would otherwise be refunded to taxpayers.
Just briefly, Polis touched on income inequality.
"We hear from too many folks that they feel like they are on an economic treadmill," he said.
As a solution for Coloradans faced with rising prices and stagnant incomes, Polis is pushing education.
Colorado brewery-dispensary collaboration aims to reuse carbon emissions
He praised a Harrison School District program that grants students two years of free community college tuition and pledged a drive for more concurrent enrollment, allowing more children to earn college credits while in high school.
He also said boosting the state's already hot economy is a priority.
"Graduates need an economy that's brimming with opportunities," he said.
Polis also credited a series of articles that ran in The Gazette for inspiring his push to fix Colorado's mental health crisis.
Polis drew praise from Republicans in the crowd. El Paso County Commissioner Holly Williams said the governor's bipartisan tone was refreshing.
"I look forward to working with him," she said.
Democrats' bill to give Colorado state workers bargaining power advances
Her husband, Colorado Springs City Councilman Wayne Williams, said Polis hit all the right notes
"He very much understood his audience," Williams said of the governor's distinctively moderate speech. "But he talked about some things that are important to us."
But Polis didn't convince everyone.
Colorado Springs Mayor John Suthers said while there was plenty to applaud in Polis' remarks, the governor was vague about his agenda.
"I would have liked a little more specifics," Suthers said.