This is the latest in a Gazette series profiling Pikes Peak region bands.
Get to an Audible show ASAP. Then you can say you "knew them when."
The five-man hip-hop band that calls Colorado Springs home has had a whirlwind year. The band won NPR's 2018 Tiny Desk Showcase, was featured on NPR's "All Songs Considered" in June 2018, was selected to play a live performance at Colorado Public Radio's Open Air Studio in October, and opened for Robert Randolph and the Family Band at the Black Sheep in December.
Stray Suns shine a light on Colorado Springs rock scene | Set List
And this month, the musicians released their debut album, "First Contact."
"I think we've really found our sound. We couldn't ask for a better crew," guitarist and vocalist Jeb Burgess said just before Audible's April 19 album release show at Oskar Blues Grill & Brew in Colorado Springs.
Burgess and Melvin "HoTT" Shaw, lead vocals, hit it off when they met at a 2008 open mic at Thunder & Buttons II in Old Colorado City. They hooked up with Ryan May, drummer and de facto band manager, who had been playing in another band and wanted to record with them. Bassist Kyrt Ellis and pianist/guitarist Brandon Metz round out the group. All of them are in their early to mid-30s.
"Last year when we went to record our EP, we met a guy who mentioned we should apply for NPR's Tiny Desk Showcase, so we did," said Burgess, a Wasson High School graduate.
They submitted the video for their first single, the somber, low-key rap anthem "Up, Up and Away," for the Tiny Desk contest.
Colorado Public Radio Open Air's Jessi Whitten wrote, "This is unmistakably Colorado hip-hop: With references to nature including 'sprouting farm fresh produce' and 'growing leaves,' it's easy to imagine this song materializing at the base of Pikes Peak in the band's hometown of Colorado Springs."
"We knew it'd be a strong submission. We had traction from performing in Denver. It helped to grow our audience," said Shaw, a Mitchell High School graduate.
Their Tiny Desk Showcase submission made it to the Top 3 out of more than 5,500 entries nationally. Recognition from that contest and continued support from NPR garnered the band a lot of exposure.
"Confirmation is a really big word for us. Once NPR confirmed us, it did a lot for our confidence," Shaw said.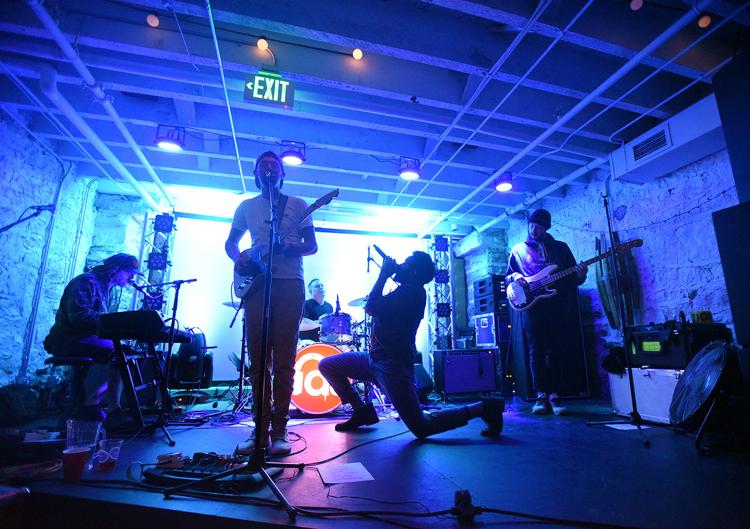 They since have shared the stage with rappers and Warren G., rap band Hieroglyphics and rock band Everlast.
"It really kind of blows my mind the exposure that we got (from NPR). We've found that it's important to align ourselves with the best people. That's done a lot for our band. We couldn't have done this without (Colorado Springs concert promoter) Jon Eddy," Burgess said.
Audible's music has a '90s hip-hop "early Jay-Z" feel, with added piano riffs and an undercurrent of soul.
As its website states, Audible's sound is an "amalgamation of funk, jazz, soul, melodic rock and golden era boom-bap — they are not your typical hip-hop."
"I guess we always knew that we were different," Shaw said. "We kind of grinded it out and made a name for ourselves. (Influences) Lauryn Hill, Adele represent that soulful side of Audible. A lot of our finishing touches come from people like Amy Winehouse. Audible grabs the attention of the Top 40 listener plus more of a hip-hop head."
Added Burgess, "Nowadays it's like every rapper is super hard. We're somewhere between Top 40 and alternative radio. We've got guitars, piano, HoTT on vocals and me and Brandon singing harmonies."
"I think we all bring our own influences to Audible," Shaw said.
With their debut album out and getting great feedback, according to May, the band's next steps include more promotion and touring on both coasts.
"We want to increase the value of an Audible show, add special effects," Shaw said.
"And we want to get some high-quality visuals out there for our next single, 'Speed Clean,'" Burgess said.
Also on their wish lists: making music their full-time occupation. For now, they have a variety of "day jobs." Burgess is a route driver for a water company. Shaw finds therapists to work with medically fragile children. May owns Performance Audio. Ellis is an emergency-services dispatcher. And Metz works for a sign shop.
"And some of us are fathers, too," Burgess said.
"The end of the day job …" Shaw said, "it's coming."
All but Shaw reside in the Springs. He moved to Denver three years ago and sees it as a means to be "a satellite agent for the band. It's kind of a great accelerant to get our name into another city."
When it comes to songwriting, Shaw and Burgess typically "will sit down and play on the acoustic guitar" and come up with skeletons for songs, then the full band will flesh out the tunes together.
"The inspiration comes from the knowledge that we have something new," Shaw said.
Audible performs most often at Cervantes Masterpiece Ballroom and the Bluebird Theater in the Mile High City and at Colorado Springs' Black Sheep.
To find their next local show, keep tabs on the band's website, weareaudible.net, and Facebook page.
Contact the writer: 476-1602