As a name, Atmosphere Gastropub is baffling. Why not Surroundings Bar, Environment Diner or Air Restaurant? The décor is comfortably chic and the menu offers an array of temptations, but our choices didn't send us into the stratosphere with excitement.
Glass, brick, corrugated metal and beetle-kill wood are all incorporated into the interior design, along with drip lighting and exposed ventilation pipes. The little bit of everything is also reflected in the menu: sandwiches, naan flatbreads, pasta, soups, salads and more.
Dining review: Mexican restaurant south of downtown Colorado Springs hits the mark
Among the bar snacks are honey strips, candied nuts, olives and grilled bread with cheddar ale spread. We tried the strips ($5): pieces of cut, fried wonton skins drizzled with honey. Sticky, sweet and crunchy are all apt descriptions. And they didn't spoil our appetites.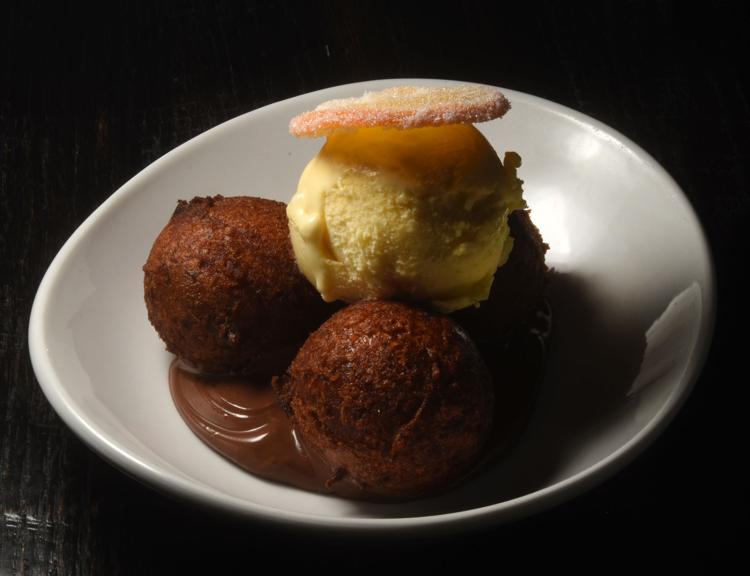 Although not listed in the menu's top spot, the lobster roll ($20) took first place in flavors at our table. One-quarter pound of large chunks of tender, sweet lobster coated with a creamy, but not overwhelming, mayonnaise with hints of celery served on a large semi-hard roll. The same poached lobster is also available as the main ingredient in a Cobb salad ($18) featuring avocado, lardon and hard-boiled eggs with a buttermilk ranch dressing. The lobster dishes are the most expensive, but that's lobster for you, especially in land-locked Colorado.
The shaved steak sandwich ($13) was something our server said she particularly enjoyed. This version of a French dip proved difficult to eat. I'm not complaining about the impressive quantity of tri-tip topped with melted Jarlsberg cheese, caramelized onions and mushrooms. But the roll was cut poorly, making it impossible to dip into the accompanying au jus. The menu didn't mention the latter. Shaved steak and French dip conjure different expectations.
The meatloaf sandwich ($12) also was not what was anticipated. I had diner meatloaf in mind — that is a thick slab rather than a round, compressed patty. Granted, specks of carrots and onion were evident, but the best part of this sandwich was the potato rosti beneath the meat. This potato cake (imagine hash browns) maintained its crispy texture. Initially, this made for a two-handed meal, thanks to the brioche bun. The bread soon was cast aside to become a knife and fork experience instead. The thick brown gravy helped a bit to offset the dry meat.
Dry was the same adjective describing the chicken in the panini ($14), while the pesto earned kudos for its strong basil notes. The grilled chicken breast simply had no juice despite the presence of melted cheese and heirloom tomatoes. Much of the tasty pesto was on the ciabatta roll rather than the meat.
Sandwiches come with a choice of sides: hand-cut fries, chips and sautéed broccolini. The latter was too al dente, but the fries were well executed.
Atmosphere Gastropub draws a crowd, and it's evidently popular for groups because the number of community tables (seating eight to 12) far outnumbered smaller options. We were seated at a community. Although no one was seated with us, the possibility loomed nonetheless. The noise level allows for easy conversation. Service was friendly but not overly attentive.
Atmosphere offers a large selection of beer choices, a full bar and happy hour deals. And we did end the meal on a sweet note: orange drop doughnuts ($6). Except they weren't, but what's in a name? Instead, the dessert consists of three doughnut holes with a pleasant citrus essence, which are covered with a Nutella ganache served with bourbon vanilla ice cream.
DETAILS
Restaurant: Atmosphere Gastropub Address: 1327 Interquest Parkway; atmospheregastropub.com Contact: 264-6161 Restaurant character: Trendy, hip and surprisingly not loud Rating total: 2.75 of 5 forks Food: 2.75 of 5 forks Ambiance: 2.75 of 5 forks Service: 2.75 of 5 forks Hours: 10:30 a.m. to midnight Sunday– Wednesday; 10:30 a.m. to 1 a.m. Thursday—Saturday Entrees: $5 to $20 Alcohol: Yes Credit cards: Yes Vegan options: Yes Outdoor dining: Yes Gluten-free options: Yes Wi-Fi: Yes What's online as of Jan. 16: • No votes on Foursquare • 4.5 of 5 stars based on 21 reviews on TripAdvisor • No votes on Zomato • 4 of 5 stars based on 80 reviews on Yelp • Active on Facebook Excellent rating Aug. 17 by El Paso County Public Health.