Indian food — like many international cuisines — can be ideal for plant-based diners. Emphasis on "can."
Traditional Indian food often includes ghee (clarified butter) and other forms of dairy like paneer (cheese). But increasingly, Indian restaurants in Colorado Springs are catering to people avoiding dairy for health or ethical reasons. Urban Tandoor on North Academy certainly is.
The "v" on the menu means vegan, not vegetarian, and there are four "v" entrees, all worth trying. A surprising, perhaps not completely authentic, first is the Vegetable Jalfrezi ($14). It honestly seemed a bit like standard veggies often found frozen — think crinkle-cut carrots and lima beans. But you know what? It worked. The tender vegetables were mildly spiced and ideal for those of you on the fence about Indian food. It's an excellent introduction to a South Asian flavor profile.
Aloo Gobi ($12) is my go-to at any Indian restaurant. Toasty cauliflower and potatoes are comfort food — and when warmed with garlic and ginger even more so. We ordered this mild and found it a wee too bland. Opting for medium heat on the next visit, it was just right.
The Bhindi Do Pyaaza ($12) is not for everyone (one word: okra). I, however, am a fan of the sometimes slimy veggie, particularly when prepared just right. Though described as crispy on the menu, I'd say not so much, but it's no matter because of the secret ingredient in this dish: traditional chaat masala. A mix of dried mango, cumin, coriander and Kala Namak (also known as black salt), umami-forward asafetida and chile pepper, it adds a smoky, fiery essence to the okra, which is especially flavorful when spooned over the basmati rice that's fragrant from flecks of cumin seed. By the way, the rice portions are extremely generous, so you really are getting a good deal of food with each entrée order.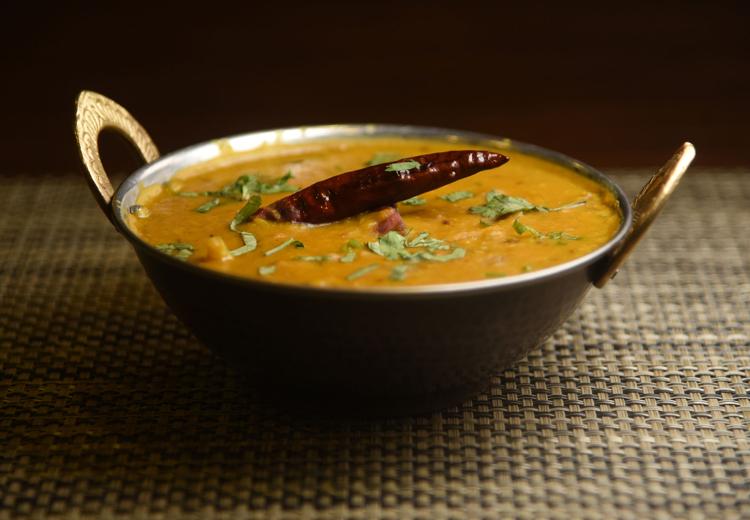 The standout entrée is the Punjabi Dal Tadka ($11). Protein-rich yellow lentils — simply simmered with onion, tomato and spices — are creamy and rich and were fantastic spooned onto a very nontraditional but oh-so-Colorado approach to naan: green chile. Yep, the Manitou Incline Naan ($4) is a leavened flatbread made with hot-hot-hot green chiles. Most of the breads can be served vegan; just inform your server so the chef can avoid spreading butter on it before serving.
Vegan dessert isn't an option, but a full bar is. Wine by the glass ($8-$10) and bottle ($30-$85), cocktails ($9), and Indian ($5-$9) and bottled ($6) beer. The flowery La Crema Chardonnay ($10) was excellent with my yellow lentils spread over the spicy green chile naan.
While my focus here is on the four entrees that are plant-based as-is, be sure to talk to your server, as there are many vegetarian entrees that can be veganized at your request. And speaking of the service, it was a bit slow. But it was hard to hold it against them because their carryout business was as busy as their tables and they take such great care in answering questions. Which is just one more touch that makes Urban Tandoor special. The full, bustling bar, the quirky yet modern décor, and the sophisticated cuisine round out a splendid dining experience.
URBAN TANDOOR
Address: 8125 N. Academy Blvd.
Contact: 593-1126
Restaurant character: Modern approach to South Asia
Rating total: 4.5 of 5 forks
Food: 4.5 of 5 forks
Ambiance: 4.75 of 5 forks
Service: 4.5 of 5 forks
Hours: 11 a.m.-2:30 p.m., 5-10 p.m. Mondays through Thursdays; 11 a.m.-10 p.m. Fridays through Sundays
Alcohol: Yes
Credit cards: Yes
Nonvegan options: meat, poultry, animal-based dairy,
Gluten-free options: Yes
WiFi: No
Outdoor dining: No
What's online as of Oct. 22
• 3 of 5 based on 49 reviews on Yelp
• 4 of 5 based on 17 reviews on TripAdvisor
• 4.8 of 5 based on the opinion of 64 people on Facebook
Excellent rating Aug. 12 by El Paso County Public Health.